News
Jävla skit! Denmark crash out in World Championship quarter-finals
---
This article is more than 6 years old.
Swedes pull away in the second half to win 26-23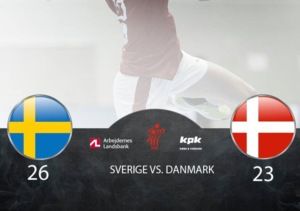 It was a straight-up Nordic showdown in the quarter-finals of the Women's Handball World Championship last night. Unfortunately, Denmark drew the shortest straw.
The Swedes had beaten the Danes handily in a pre-tournament friendly, and that trend continued with a 26-23 Swedish victory last night.
Denmark were only behind by one goal at half-time, but the Swedes turned it up a notch in the second half, leading by six goals with 15 minutes to go.
"It irritates me because I believe that it is a team we can beat. We have enough opportunities, but we had too many shot blocked," coach Klavs Bruun Jørgensen told BT.
"We shoot too early, I think. It's been a tendency that we haven't spread our players out well enough so we can get some more shots from the wing."
READ MORE: Danish women storm into handball World Championship quarter-finals
Another quarter exit
Denmark pulled within two goals near the end, but Sweden would not relinquish their lead.
It's the second World Championship in a row that the Danes have been knocked out at the quarter-final stage.
Meanwhile, the Swedes stay in Germany and move on the semi-finals, where they face a French side that beat Montenegro 25-22 last night.