News
Full honours for serving Denmark … providing it is overseas
---
This article is more than 6 years old.
Troops deployed in Denmark question why they won't get the same special compensation package afforded to their overseas counterparts and also the police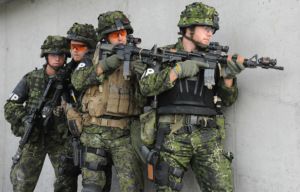 When Danish soldiers die fighting abroad, their families are well looked after under the terms of a special compensation scheme.
But increasingly Danish soldiers are finding themselves deployed within Denmark to guard its borders and potential terror targets, where they would not be eligible for the package, even though police officers who die in service are.
Money and recognition
Some 300 of them have now signed a letter sent to Danish Defence demanding better remuneration.
The letter makes three demands: a higher salary; the special compensation package that will look after the financial needs of their families should they die; and the same kind of recognition should they die on Danish soil – for example, inclusion on the memorial plaque at  Kastellet.
And the chief of defence, Bjørn Bisserup, has already indicated that he agrees they should be entitled to the special compensation – he said as much last month, according to DR.
"We feel badly treated"
At present, the soldiers receive the same level of pay given to police officers manning the posts, despite working seven days in a row and hours that often vary from one day to the next.
"We feel badly treated. We think we are solving a task in Copenhagen and at the border that is very similar to the tasks we carry out abroad," a spokesperson for the soldiers, Michael Høy Nedergaard, told DR.
"In Denmark, we are deployed during a terrorist threat. Therefore, we think we should be honoured accordingly."
Soldiers demotivated
According to Nedergaard, there is a danger some of the soldiers will quit.
"I've heard colleagues say that if this continues, they will seriously consider finding something else to do," he said.
"We do not feel we are being heard, and motivation falls when you are not heard by your boss."