News
Danish News in Brief: Danish police say motorway stone throwers are serial offenders
---
This article is more than 6 years old.
In other stories: Danish actor fined, a wet and windy Christmas, good news for Danish workers but for polar bears … not so much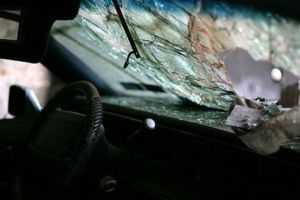 Danish police say motorway stone throwers are serial offenders
Police on Funen are now calling those responsible for dropping stones on cars on the motorway near Odense "serial offenders". Police say that evidence points to the perpetrators living in Tarup in northwestern Odense.The concrete stone which killed a German woman in a car on the highway probably came from the Tarup Centre, and police say that DNA evidence from other stones matched evidence found during investigations of vandalism in and around Tarup. Stones were dropped on cars passing below an overpass on Wednesday night. There were no injuries, but two cars were damaged.
Danish actor fined for calling in sick locally to go to Hollywood
Actor Caspar Phillipson has been fined over 150,000 kroner for calling in sick to his gig in a local production while he trod the boards in Hollywood. Phillipson was signed to appear in the London Toast Theatre's Crazy Christmas show in Tivoli during November and December of 2015 when he was offered a role in the Hollywood film 'Jackie'. When the theatre would not release him from his contract, Phillipson presented a medical certificate sating that due to "a bad mental working environment" he was hospitalised for two months during the Tivoli show's run. The London Toast Theater had to find a replacement and cancel a show, incurring what it called "significant losses". Phillipson then went to Paris between December 4 and 16 to record his scenes in 'Jackie' . The theatre sought compensation for its losses, which was granted by the High Court.
Danish workers optimistic about 2018
Danish workers believe that 2018 will be even better than 2017, according to an international survey conducted by therecruitment agency Randstad. Over 70 percent of Danes expect the Danish economy to be even better in 2018 when compared with 2017. The companies themselves share their employees optimism, with 63 percent responding they believe their business will perform better in 2018 compared to 2017. "It is of course pleasing that the Danes believe that economic growth will continue in 2018," said Randstad head Nima Astanehdost. "We are also looking to fill 15 new positions."
Christmas will be windy and wet, not white
Denmark can expect a wet and windy Christmas, with a risk of high winds. Temperatures will be as high as ten degrees, so slippery roads won't be a problem during the annual Chris Rea commute, but a low pressure system bringing rain and high winds could present problems, especially on December 23 – 'little Christmas Eve' – when storm strength winds will hit most of the country, creating the possibility of bridge closures. The wind and rain will continue throughout the entire Christmas season, and commuters are advised to keep an eye on local forecasts as they head out to the motorways.
Greenlandic hunters may shoot more polar bears in 2018
For the first time in years, Greenland has raised the quota of polar bears that hunters may shoot. A new census on the west coast has shown that there are significantly more bears originally thought, so the quota has been raised to 156. The increased quota applies especially to western Greenland. The new study revealed that there are more bears than assumed, and it showed that they are significantly thinner than 20 years ago.