News
Popular painkiller can alter male hormone balance, research finds
---
This article is more than 5 years old.
Taking the drug Ibuprofen for even a short time can damage testosterone production in young men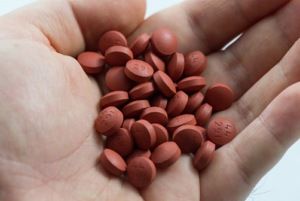 Ibuprofen is a popular over-the-counter drug used to alleviate pain, fever and inflammation – especially in cases of painful menstrual periods, migraines and rheumatoid arthritis.
A new joint Danish-French research project has discovered that taking the medicament for only 14 days can cause damage to men's testosterone production, reports DR Nyheder.
Testosterone plays an important part in maintaining muscle tone, sexual potency and general well-being in men.
Keeping men stable
"For men, it is important their testosterone level remains at a stable level. Ibuprofen puts a severe damper on testosterone production, so the brain has to kick in," said David Møbjerg Kristensen, a senior researcher at the Copenhagen's main hospital, Rigshospitalet.
The human brain compensates for testosterone deficiency by producing luteinizing hormone (LH), which sends a signal to the testicles to produce more testosterone. The researchers measured the level of LH in the bloodstream of the test subjects who were taking Ibuprofen and found it to be significantly higher than in test subjects not taking the drug.
Still a useful medicament
However, Kristensen emphasises that despite the results of the study, men should not stop taking the drug.
"Ibuprofen works really well as a painkiller and fever-reducing medicine, so there are of course a number of cases where taking it is sensible," he says.
"For example, arthritis sufferers need something like this to take away the pain and alleviate the swelling in their joints. If you are in doubt, you can always seek advice from the chemist or your own doctor," added Kristensen.
Care needed, though
The drug has been in the spotlight before. In March last year, Danish research showed that taking it increased the chances of a cardiac arrest by 31 percent.
READ ALSO: Popular arthritis medicine could be deadly
At that time, the Danish medicinal authority, Lægemiddelstyrelsen, said that you should only take Ibuprofen if it is strictly necessary, but also that it would not restrict its sale as an over-the-counter drug.