News
CPH POST 2017 TOP 5: Danish Sports Personality of the Year
---
This article is more than 5 years old.
List dominated by footballers as men qualify for World Cup and women reach the final of Euro 2017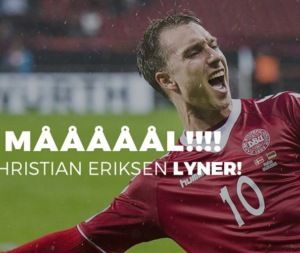 It's impossible to compile such a list without some glaring omissions – a resurgent Caroline Wozniacki, for example.
While Chelsea defender Andreas Christensen, NFL wanabe Andreas 'Thor' Knappe and skater Elena Møller Rigas – a strong hope to grab Denmark's first ever individual Winter Olympic medal – have made strong progress.
But none of them could make it into this top five, for whom the last 12 months have been truly spectacular.
5 Nikolaj Ehlers
Still only 21, the Winnipeg Jets winger signed a new seven-year contract worth 265 million kroner in the autumn following a season in which he scored 25 goals and 39 assists, ranking him third at the club and 30th equal in the NHL. Both the contract and points total (surpassing Frans Nielsen) were Danish records.
4 Nadia Nadim
The 29-year-old landed a Nike sponsorship deal, won worldwide acclaim for her performances at Euro 2017 and agreed a move to English Super League champs Manchester City. The stylish forward, who is training to be a surgeon, speaks nine languages fluently. And now her biggest challenge lies ahead: Mancunian.
3 Viktor Axelsen
Badminton might not be super lucrative, but its appeal is strong in India and China, and the new world number one is poised to capitalise. In August the 23-year-old became the first Danish world champion in men's singles since Peter Rasmussen in 1997 and then followed the momentum to move to the top of the rankings in September.
2 Pernille Harder
Forget what UEFA said, Harder was the star player at Euro 2017. The 25-year-old forward's equaliser to tie the game at 2-2 before half-time was one of the best women's goals ever scored, and she was a constant threat every time she had the ball. She deserved better protection from the refs.
1 Christian Eriksen
The Tottenham midfielder scored 11 goals in 12 games in qualifying – 44 percent of his country's total return – saving his best to last: a hat-trick away in Dublin in the second leg of Denmark's 2018 World Cup playoff. Travelling to Russia without him is unthinkable.