News
Volatile weather to descend upon Denmark this week
---
This article is more than 5 years old.
Chilly Monday to give way to storm-force winds later in the week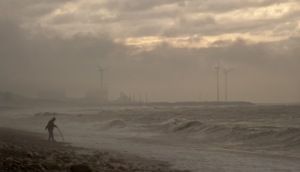 For commuters who were shivering in the cold as they made their way to work this morning, this will constitute grim reading.
A huge low-pressure system is currently moving in from the north and the wind-chill factor will make temperatures feel about 5 degrees colder than they actually are. But while rain, sleet and snow is expected to accompany the winds, the weather looks to be even more dramatic later on this week.
READ MORE: Overseen climate dilemma: Too much rain!
Torrid Thursday
The national weather forecaster DMI has warned of a low-pressure system coming in from Scotland that will bring a risk of storm-strength winds for much of Denmark on Thursday.
The system will also be accompanied by widespread precipitation – it could begin as snow or sleet, but will probably end up in rain.
However, the forecast is rather unsure – the winds could be more or less powerful, depending on the path of the system – so DMI urges readers to keep an eye on weather updates.