News
Research and Tech News in Brief: Can VR slow the development of dementia?
---
This article is more than 5 years old.
In other stories, work stress, rare spiders in Madagascar, undersea fibre cables and computers that can help us find love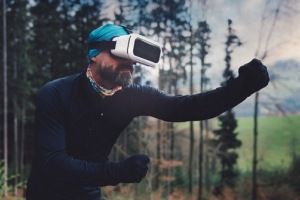 When people suffer from dementia, it totally transforms their lives – as well as those of their loved ones. Dementia-sufferers' memories and identities are gradually erased and their family become strangers to them. At present, the disease is incurable.
Danish researchers from DTU have got together with IT firm Pactor to investigate whether virtual reality can slow the process down. "We're developing a new IT tool for use in the eldercare sector designed to stimulate brain activity among people with dementia and, in this way, train their short-term memory and speech capabilities, thus improving their quality of life," said Farzad Saber, the CEO of Pactor.
The first phase of the project involved looking at the memories and reminiscences of a group of elderly people with dementia from two centres in Ballerup Municipality and integrating them into different VR experiences.
"Through VR the elderly person can be transported into a situation where they can recognise or see something that reminds them of their previous experiences," said Professor Helle Rootzén, the head of Learn DTU. "This can help them by recreating their memories and, at the same time, stimulate their language skills when they want to formulate their own memories."
---
Work stress worse than physical injury
Employees who buckle under stress and other mental illnesses sustained at work often find themselves worse off than colleagues with physical injuries such as bad backs. The problem is that bosses and the staff representatives on the working environment committee often don't know how to handle psychic problems and the employee ends up losing his or her job, new research from the University of Copenhagen shows. Around 23,175 people a year report work-related injuries and the number of those stemming from stress or bullying has risen by 51 percent over the period from 2010 to 2016. The study revealed that only 23 percent of those with mental problems were still employed at the same place four years after their illness was reported. Out of those who left their jobs, the majority were fired and still unemployed two to four years later.
New species of spider discovered
The first pelican spider specimen was discovered in the mid-1800s encased in a piece of Baltic amber. Thought to be extinct, living examples were subsequently discovered in Madagascar. Danish researchers have now discovered another 18 species of the spider in Madagascar's rain forest, bringing the number up to 90 known species, reports Videnskab.dk. The spider takes its name from its appearance when seen from the side. Its head is connected to its body by an abnormally long neck. The spiders also have a unique way of hunting their prey – in this case: other spiders. They smell and feel their way to the single strands that smaller spiders use as lifelines to attach themselves to their webs. The pelican spider then drums on the web so the owner thinks that something is caught. As soon as the smaller spider emerges, the pelican spider pounces and in a quick movement impales the other spider whilst injecting its venom.
Denmark expands its international digital connections
Recently, the Irish company Aqua Comms unveiled investment plans that will considerably strengthen Denmark's subsea fibre-optic network connections to the US. The subsea cable, known as Havfrue (mermaid), crosses the North Atlantic to connect mainland northern Europe to the US and this is the first new project of its kind in nearly two decades. The group behind Havfrue also includes Facebook and the cable will be able to go from Facebook's data centre in Odense via Esbjerg to New Jersey. The project is expected to be completed by 2019 and will also be beneficial to ordinary citizens as well as companies.
DTU to buy wind energy supercomputer
The Danish research organisation DTU has just launched an EU-wide tender for a new supercomputer to make computational fluid dynamic calculations. This is an area especially used in the field of wind energy. The new computer, which will be located at the Risø campus, is expected to cost around 20 million kroner, reports Version2. "We're renewing the existing infrastructure that we established four years ago," said Steen Pedersen, the IT boss at DTU. "Now we're ready to invest in the next generation of high-performance computing." Supercomputers such as this often only have a lifetime of around four years. This is because half the cost is in the running of it – primarily power.
Computer help you find true love
In connection with a TV series on DR3, 'Koden til kærlighed' (the code for love), researchers at DTU have been playing at matchmaking. Using data from 1,334 people living in well-functioning partnerships, an algorithm has been developed to analyse the conditions behind their relations with one another. The algorithm has been fed information on things such as food preferences, transport habits, number of siblings, pets, consumer patterns, people's height and where they were born – and much more that is not normally considered relevant regarding the choice of partner. It is then able to look for patterns in the relationships between the data. "In that way, it can teach itself what the ingredients are in a good relationship and how they should be mixed," said the algorithm's creator, Professor Jan Larsen from DTU Compute.