News
UPDATED NEWS: Train problems to continue into March
---
This article is more than 5 years old.
Long-suffering train passengers will have to bite the bullet again this week as DSB withdraws locos for checks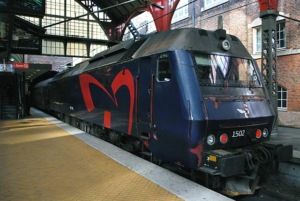 Hard-pressed train commuters in Zealand will have to wait until at least March 23 before normal services are completely resumed.
The bogies (wheel frameworks) on the 33 diesel-electric ME locomotives withdrawn by DSB will have to be sent to Aarhus to be checked for cracks, reports Ingeniøren.
The problem faced by the engineers is to determine how deep the cracks are and whether there is a risk of the axle snapping. DSB is now looking into methods to analyse the cracks.
The March 23 date might also need to be extended if it transpires that the problem is worse than expected.
---
ORIGINAL STORY:
The Danish state railway company DSB has discovered problems with a number of its diesel-electric ME locomotives, leading to 33 of them being withdrawn from service for a safety-check up. Cracks have been found in the axles, reports TV2 Nyheder.
READ ALSO: Some Danish trains falling to pieces on the tracks
There will be fewer trains this week, especially on the stretches between Kalundborg and Copenhagen, Holbæk and Copenhagen, and Nykøbing Falster and Copenhagen.
A number of the express trains between Jutland and Zealand will also be affected.
Commuters can expect only one slow train (stopping at every station) per hour from Kalundborg and Holbæk to Copenhagen, and just two trains per hour from Nykøbing Falster to Copenhagen. This timetable is expected to be in effect up to and including Friday this week, and it could continue.
More road traffic expected
"We don't know when this will be over and that is the most frustrating aspect," said Toke Hermind, a spokesperson for the Slagelse commuter association.
"One good thing is that DSB has given us ample warning, but the worst element is that we don't know how long this is going to take," he added.
Because of the disruption, Hermind expects a number of commuters will drive to work instead and this could cause extra congestion on the roads during rush hour.