News
Capital region up in arms over municipal countervailing scheme
---
This article is more than 5 years old.
Dozens of municipalities complain that too much money is going to Jutland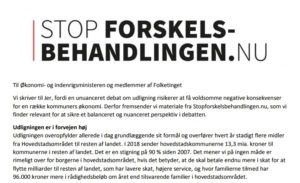 Should you have picked up Berlingske or Politiken newspapers this morning, you might have come across an interesting full-page ad.
The ad was paid for by 34 municipalities from the Capital Region that feel the so-called 'udligningsordningen' ('countervailing scheme') – which aims to reduce the economic differences between Danish municipalities – has gone too far.
"Over the past many years, Parliament has moved more and more money from the capital area to Jutland. The amount has doubled since 2007 and has reached 13.3 billion kroner in 2018 … Stop this differential treatment now," the ad read.
READ MORE: DR willing to replace media licence with a tax
Simpler by 2019
The ad also referred to a press release released by Frederikshavn on January 19 in a bid to attract state workers to the Jutland municipality. It highlighted that families would have more money at their disposal after the usual expenses were paid compared to Lyngby-Taarbæk Municipality in the Capital Region.
The municipalities in the Capital Region don't want to scrap udligningsordningen, they just want to make it fairer.
"We've had enough. From 2017 to 2018 alone, udligningsordningen increased by 1.5 billion kroner and we are in a situation in which the municipalities in Jutland want even more. We simply don't think that this is reasonable," Steen Christiansen, the mayor of Albertslund, told DR Nyheder.
The economy and internal affairs minister, Simon Emil Ammitzbøll-Bille, is currently looking into the contentious scheme and he has indicated that he intends to make it more simple. An agreement could be ready by the start of next year.
The 34 municipalities behind the appeal to Parliament are Albertslund, Allerød, Ballerup, Brøndby, Dragør, Egedal, Fredensborg, Frederiksberg, Frederikssund, Furesø, Gentofte, Gladsaxe, Glostrup, Greve, Gribskov, Halsnæs, Helsingør, Herlev, Hillerød, Hvidovre, Høje-Taastrup, Hørsholm, Ishøj, København, Køge, Lejre, Lyngby-Taarbæk, Roskilde, Rudersdal, Rødovre, Solrød, Stevns, Tårnby and Vallensbæk.
See the ad below in Politiken