News
Danish News in Brief: Disgrace impending for under-pressure former mayor and immigrant baker
---
This article is more than 5 years old.
In the ascendancy meanwhile, the troubled Odense neighbourhood of Vollsmose and a regional aerodrome at Holeby are expecting imminent facelifts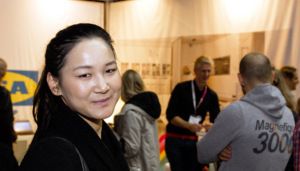 Former deputy mayor accused of further fiddling
Copenhagen Municipality is not finished with Anna Mee Allerslev, reports BT. The municipality has asked its legal adviser, the law firm Horten, whether new information might affect its original assessment regarding Radikale's former deputy mayor for employment and integration. According to the same newspaper, a construction company awarded municipal renovation contracts under Allerslev 's watch might have carried out pro gratis work on the politician's Østerbrogade apartment. BT alleges that Øen Murerfirma carried out work worth an estimated 25,000 kroner – claims Allerslev rejected as "grotesque" on Facebook. Any new findings will be passed on to the parliamentary ombudsman investigating Allerslev. In October, Allerslev was accused of giving Øen Murerfirma preferential treatment in return for the free hosting of her 30th birthday party in August 2014.
READ MORE: Allerslev faces further allegations
Politician to pay back money raised for baker
The case of the immigrant baker Ali Parnian – who received half a million kroner from well-wishing Danes after news broke that his shop in the troubled neighbourhood of Tingbjerg in Brønshøj had been vandalised on January 20, an apparent response to him refusing to pay protection money – should have been one of the feel-good stories of the year. But while the Konservative MP Mette Abildgaard was quick to come to his aid, the media took a different approach, investigating Parnian's alleged criminal past – just last week he was acquitted of charges he set a car on fire. Nevertheless, following complaints from several of the donors, Abildgaard has decided to pay all 485,000 kroner back.
READ MORE: Danes out in force to support immigrant baker
New name proposed for troubled neighbourhood
The troubled Odense neighbourhood of Vollsmose has plans to adopt a new name to leave its past behind. The Venstre contingent in Odense Municipality are leading plans to gentrify the area, which currently houses 9,000 people, with new residential buildings and a mentorship approach to curbing youth crime. The new name will be chosen in collaboration with local residents.
Man arrested as ecstasy pill puts teenager in coma
Police have arrested a man from Næstved in southern Zealand who is suspected of selling the ecstasy pills that led to the hospitalisation of two 15-year-old boys from Haslev last week on Friday. One of the teenagers remains in a coma, while the other has been discharged from hospital. The suspect has apparently told police he was aware the pills had a high MDMA content, but still sold them on to a dealer in Haslev, who has been released without charge. The police have urged caution to anyone who might have bought pills from the same batch.
Regional aerodrome a step close to offering scheduled flights
A regional aerodrome at Holeby on the island of Lolland has announced plans to invest in new equipment, signalling it will only be a matter of time before it starts operating scheduled flights. Thanks to the investment, the renamed 'Lolland-Falster Airport' will be able to offer pilots the necessary climatic information needed to land during periods of poor weather and visibility. However, there is no timeframe yet on when the airport might start offering scheduled flights.