News
Business Results in Brief: Market reacts well to steady Vestas results
---
This article is more than 5 years old.
Elsewhere, Lundbeck and Novozymes are flying, but Carlsberg and Matas have plenty of room for improvement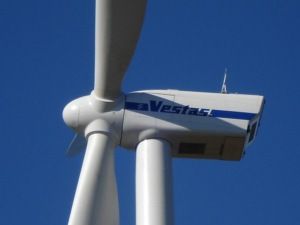 A sizeable fall in the market price of a megawatt has seen revenue and profits fall at Vestas, which could only charge 796,349 euros per MW last year compared to 905,279 in 2016.
Revenue accordingly decreased from 10.24 to 9.95 billion euros and its net profit by around 70 million to 894 million euros.
Orders remain healthy
Nevertheless, Vestas can still claim to be "industry leaders for profit margins and delivering solid sales".
And this was backed up by another record year for its order book, which rose from 10,494 to 11,176 MW, and a more valuable service order backlog, which jumped 1.4 billion euros to 12.1 billion.
Vestas shares rose following the announcement of the results.
Growing concerns
The wind turbine producer partly blamed its revenue dip on dwindling support from the sector – most particularly in the US, where it faces losing sizeable subsidies. Furthermore, competition is ever increasing as the industry matures.
READ MORE: News in Digest: Wind changes unfavourably in US
Looking ahead, Vestas expects its Ebit margin (the percentage of revenue that ends up as profit) to continue falling, from 12.4 percent in 2017 to 10 percent in the long-term.
Once again, Vestas was able to issue a healthy dividend – this time of 9.23 kroner per share compared to 9.71 in 2016. The total issued was the equivalent of 29.9 percent of its net profit.
---
Record results for Lundbeck
Lundbeck's revenue rose 10 percent in 2017 to 17.2 billion kroner as its net profit soared 117 percent to 2.6 billion kroner.  The pharmaceutical company hailed the figures as its "best financial result ever". The performance of three drugs were signalled out: Brintellix and Rexulti, which both treat depression, and Onfi, which helps people with epilepsy. Lundbeck doesn't currently have a CEO, having failed to replace Kåre Schultz who left the company last year to join Teva in Israel. Looking ahead, Lundbeck is confident it can increase it sales in China, where it is set to launch Brintellix and Azilect, a treatment for Parkinson's disease.
Solid growth at Novozymes
Sales at enzyme producer Novozymes rose 4 percent from 14.1 to 14.5 billion kroner in 2017, which was slightly below analysts' projections, but "satisfactory with solid growth and margins", according to the company. As a supplier to 40 industries, Novozymes splits its business into five units, and of these Bioenergy saw the most growth, increasing by 11 percent. Detergents, its largest area of business, grew by 1 percent, while Agriculture and Feed fell by 3 percent.
Poor summer and Russian legislation dampen Carlsberg's bottom line
Poor weather over the summer didn't help Carlsberg as total sales fell by 2 percent in 2017, but disaster was averted thanks to a good performance in some specialty areas, including microbrewery-produced and alcohol-free beer ranges. While sales continue to decline in Russia (by 4-5 percent, partly due to new legislation), where Carlsberg is the market leader with around a third under its control, it has been making inroads in other countries, such as Switzerland, where specialty beer sales are soaring.  Amongst its brands, sales of Grimbergen rose 15 percent, while 1664 soared 46 percent. Alcohol-free beer sales jumped 15 percent in western Europe.
Sales dipping at Matas
Chemist chain Matas has revised its 2017-18 fiscal expectations following a set of Q3 results that confirmed its fears regarding dipping sales despite a healthy Christmas performance. Sales fell 0.8 percent to 2.7 billion kroner over the first three quarters compared to the same period in the previous year, and its profit fell from 286.1 to 248.6 million kroner. Matas has accordingly revised its annual operating income projection from 440-470 to 445-460 million kroner. Moving forwards, the company noted that it wants to make it "faster and easier" to shop at its online stores.