News
"Danes more like Israelis than other Scandinavians," claims Swedish futurologist
---
This article is more than 5 years old.
New claims made about the current state of Nordic citizenry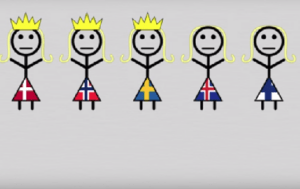 From a geographical perspective Denmark is considered one of the central players in the Nordic bloc.
However, a Swedish futurologist has made the assertion that Danish citizens have more in common with Israeli or Dutch nationals, than those of their neighbours.
In an interview with Business Insider Nordic, the highly-regarded public speaker and writer Magnus Lindkvist sought to undermine the popular notion that citizens of Finland, Sweden and Norway are closely affiliated to the Danes.
Lindkvist suggested that Danish business and lifestyle models are vastly different from those found in the other Nordic countries.
Denmark against Scandinavia
The futurologist pointed out Finish business structures are mostly based on 'American' models – i.e they are led by male-dominated management systems. Sweden, he said, possesses a vibrant industrial sector conceived through a similar design, whilst Norway has simply "copied" the approach taken in Sweden.
However, when asked about Denmark, Lindkvist suggested there was a clear divide between the country and the set of social and commercial relations existing among the other Nordic nations.
"Denmark would never do anything with Sweden if we weren't so close together," he argued. "The Danes are in essence Dutch or Israeli: frugal, global, sales-minded, [who] enjoy making deals."
Lindkvist went on to clarify his explanation of Scandinavia through a single succinct statement: "Things are invented in Finland or Sweden, copied by Norway; Denmark does something completely different."