News
Historic case: Danish man convicted of promoting illegal film service
---
This article is more than 5 years old.
Ruling in Odense sets precedent for future cases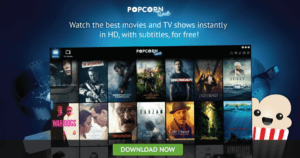 A Danish man has become the first European to be convicted of taking part in the promotion of an illegal online film site.
The 39-year-old man was handed a six-month suspended sentence by an Odense court for promoting the illegal online film streaming service Popcorn Time via his website popcorntime.dk.
"Never before has a person been convicted of participating in the promotion of streaming services. The ruling is therefore an important step in the fight against illegal streaming on the internet, and it will reverberate across Europe," said Dorte Køhler Frandsen, the senior prosecutor in the case.
"The decision is a clear signal to those who help spread illegal pirate services. The film industry and others lose billions in income every year because criminals offer films for free illegally. That's a loss for everyone, including the consumer."
READ MORE: Danish MPs demand streaming service tax
Ad earnings stripped
More specifically, the man was convicted of offering a guideline about how Danish users could download the Popcorn Time app, how to install and use it, and how to avoid being discovered by the authorities.
Aside from his suspended sentence, the court also ruled to confiscate 500,000 kroner the man had earned in advertising income via his website. He also faces 120 hours of community service. He has two weeks to appeal to the higher courts.
Popcorn Time was founded in Argentina in 2014, while the Danish version of it was closed down in 2015 by the police, who arrested two people in connection with the closure.
'Kritikal' arrest in Malaga
In related news, two Danish citizens aged 35 and 43 have been arrested in Malaga, Spain in connection with a massive narcotics bust.
The police found 640 kilos of the cannabis product 'Kritikal' hidden in a trailer that was being prepared to be sent to Denmark.