News
Denmark may have to bring back jailed IS fighters from Syria
---
This article is more than 5 years old.
Defence minister open to prosecuting Danish foreign fighters in Denmark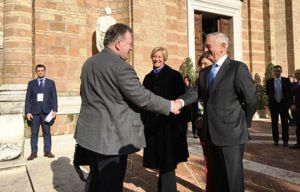 The defence minister, Claus Hjort Frederiksen, has revealed that there is currently a "small" group of Danish citizens imprisoned in Syria and Iraq for fighting on behalf of the jihadist organisation Islamic State (IS).
Frederiksen informed DR Nyheder that Denmark may be forced to bring back one or more of the jailed fighters and try to prosecute them in Denmark.
During a coalition meeting in Rome this week, the US secretary of defence, James Mattis, urged the coalition partners to bring back their own citizens who have fought for IS.
The US plea is an attempt to provide relief to the coalition partner in the area, the Syrian Democratic Forces (SDF), which is currently holding hundreds of foreign fighters as capitive.
"We are working at uncovering how many there are and we need to look into their cases," Frederiksen told DR Nyheder.
"We've had a good relationship with SDF [Syrian Democratic Forces], which has made a huge effort in the fight against IS. The thing is that we should not let down a co-operation partner, so we must try to figure this problem out. We will have to look at the individual cases."
READ MORE: IS fighters to stop receiving Danish unemployment benefits
Preferably not
But as it stands, Frederiksen would rather see the Danish IS fighters prosecuted in the nations where they committed their crimes. Previously, the UK has rejected the notion of prosecuting foreign fighters from the UK back in Britain.
According to the national intelligence agency PET, around 150 Danish citizens have joined militant jihadist organisations in Iraq and Syria since 2012.
A handfull of the fighters have been informed that they are no longer welcome in Denmark – Since 2015, the immigration services Udlændingestyrelsen have been able to confiscate residence permits of alleged foreign fighters who have left Denmark to fight for IS but who are not Danish citizens.