News
Business News in Brief: Denmark in food incursion to the United Arab Emirates
---
This article is more than 5 years old.
Elsewhere, Maersk, DSV and Nykredit all reveal strong 2017 results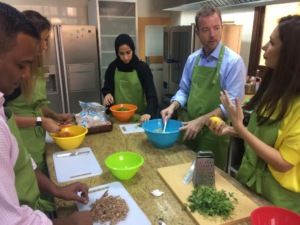 The Environment and Food Ministry is spearheading a Danish delegation to Dubai in the United Arab Emirates this week in a bid to promote sustainable Danish solutions within food production and water tech.
The UAE is among the ten most water-deficient countries in the world, and its demand for food produce is increasing by 12 percent annually. The country has also pledged to invest considerably in technology, waste management and sustainable energy.
"The UAE has a goal to become an example for the world in terms of sustainability and low energy consumption. We can deliver a vast amount of the technology and knowledge they require to improve their water consumption and waste management," said the environment and food minister, Esben Lunde Larsen.
"Moreover, there is a rising demand to import food products to the growing population, which is another opportunity that Danish companies need to embrace. We can deliver anything: from organic chocolate to large-scale dairy produce."
READ MORE: Danish food security on the menu in South Korea
Upward trajectory 
Aside from the government, the more than 40 other participants with the Danish delegation include the national confederation for industry, Dansk Industri (DI); the agriculture and food council, Landbrug og Fødevarer; State of Green; and the national organic association, Økologisk Landsforening.
Danish exports to the UAE generated 3.2 billion kroner in 2016, and DI expects that figure to increase by about 3 percent every year over the next five years.
"Many of the companies have already found a solid footing in the UAE. Now we need to consolidate that and get Danish companies to gain a share in the rising demand for environmental technology and food products," said Larsen.
---
Maersk back on course in 2017
It is difficult to argue against the contention that 2017 was a dramatic year for Danish shipping giant Maersk. From divesting its oil and gas business and enduring a devastating hacking attack, to acquiring the German shipping company Hamburg-Süd, there was a lot to see to following a disappointing 2016. But Maersk seems to have steadied the ship last year, and last week it revealed a 2017 financial result that included an increase in turnover of 13 percent compared to the previous year. The underlying profit was up to 356 million dollars compared to a loss of nearly 500 million dollars sustained in 2016.
Record years for DSV …
Earlier this month, the Danish transport company DSV unveiled outstanding financial results for 2017 after publishing record figures for turnover and operating profit last year. DSV increased its turnover by 7 billion kroner to 74.9 billion kroner, while its operating profit landed at 4.9 billion kroner. The firm estimates that its operating profit will further increase in 2018 to somewhere between 5.0 and 5.4 billion kroner.
… and Nykredit
Another company that enjoyed record financial results was mortgage company Nykredit, which reaped the benefits of lower costs, fewer impairments and increased income. The result for 2017 landed at 8 billion kroner, an improvement of 51 percent compared to 2016 and its best showing ever. However, Nykredit doesn't expect to generate the same kind of results this year, with estimates landing somewhere between 6.5 and 7.5 billion kroner.
Danish birch juicers eyeing US market
The Danish company Sealand Natural Resources has gained a solid foothold in South Korea, where its birch juice has been selling like hot cakes. Now, the firm is hoping to translate that into a successful venture in the US and has already secured a three-year-deal with the US supermarket giant Whole Foods Market. Since Sealand Natural Resources started in 2013, turnover has shot up from 1 to 15 million kroner. Some 90 percent of the company's earnings come from exporting abroad.