News
MDMA madness: Two more teenagers hospitalised
---
This article is more than 5 years old.
Elsewhere, a manhunt is underway following a brutal axe attack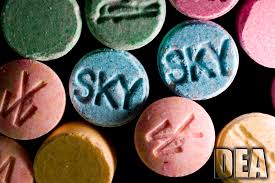 Last week a 15-year-old boy from Haslev died after he and his friend were hospitalised after taking a drug purported to be MDMA on February 2. Now two additional teenagers are in hospital for the same reason.
Two girls, aged 15 and 16, were admitted to the intensive care ward at Esbjerg Hospital over the weekend for ingesting the psychoactive drug.
"The two were admitted from Fanø and have probably been at a party in either Fanø or in the Esbjerg area, so there could be other youngsters who have taken the drug," wrote South Jutland Police.
READ MORE: Powdered MDMA taking hold in Copenhagen
Arrests made
The police urged all parents in the area to check on their teenagers just in case.
Also commonly known as ecstasy, Molly or Emma, MDMA can over-stimulate the nervous system and lead to organs being overheated and heart arrhythmia. The effect can be so overwhelming that internal organs begin to shut down and eventually lead to death.
Increasingly, drugs purported to be MDMA are actually PMA, a far more dangerous drug when ingested, due to the difficulty of obtaining the necessary ingredients.
A 17-year-old boy has been detained in the Haslev case, while a 19-year-old has been arrested and charged in connection with the Esbjerg case.
Axeman panic
In other news, a manhunt is underway following an axe attack on a young couple at a Circle K petrol station in the district of Birkerød, on the northern outskirts of Greater Copenhagen, on Saturday night.
The couple were both struck on the head and upper body, but their injuries are not life-threatening.
The police have yet to locate a 29-year-old man (pictured below) who they suspect of carrying out the attack. He was released from prison ten days ago after serving a three-year prison sentence.
The police have urged any witnesses connected to the attack to step forward and call them at 114. The man at large is considered dangerous and should not be approached.