News
Queen Margrethe and Royal Family bid farewell to Prince Henrik
---
This article is more than 5 years old.
Private funeral ceremony held at Christiansborg Slotskirke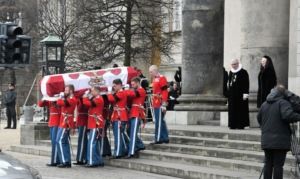 Queen Margrethe and the Royal Family said their final goodbyes to Prince Henrik today in a private ceremony in Copenhagen.
After the funeral, ten officers carried Prince Henrik's casket out from Christianborg Slotskirke church and into the waiting hearse to the sound of J P Hartmann's 'Sørgemarch for Thorvaldsen' –  the same song that was played in Roskilde Cathedral following the funeral of King Frederik IX in 1972.
Following closely behind was Queen Margrethe, Crown Prince Frederik and the rest of the Royal Family.
READ MORE: Prince Henrik's final journey
In sea and ground
About 60 dignitaries, family members and friends were in attendance, including PM Lars Løkke Rasmussen, the former King of Greece, King Constantine II, Parliament's speaker of the house, Pia Kjærsgaard and the French ambassador to Denmark, Francois Zimeray.
Close to 20,000 Danes queued up over the past few days to see Prince Henrik's casket which was available for viewing in Castrum Doloris in Christiansborg Slotskirke.
Castrum Doloris, the public viewing of a prominent person's casket before the funeral, is a practice the Danish Royal Family has practiced since Frederik III died in 1670.
Prince Henrik chose, rather surprisingly for a Royal, to be cremated and have half his ashes spread out at sea, while the other half be buried in the garden at Fredensborg Castle.
Prince Henrik passed away late on February 13 aged 83.