News
Skeletons of first Copenhageners discovered under City Hall Square
---
This article is more than 5 years old.
Find could give new insight into the earliest inhabitants of the Danish capital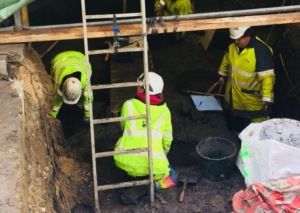 Since December, a team of archaeologists from the Museum of Copenhagen have secretly been excavating 20 skeletons discovered under City Hall Square.
The skeletons belong to men, women and children who are believed to have lived around 1,000 years ago, and which archaeologists believe were the first Copenhageners.
"It's amazing. The graves with the skeletons in good condition are lying just a metre under the asphalt on the busiest square in Denmark," Jane Jark Jensen, an archaeologist and curator with Copenhagen Museum, told Politiken newspaper.
The archaeologists believe that there are two additional layers of skeletons underneath the layer they are currently excavating.
READ MORE: Archaeologists uncover medieval village in mid-Jutland
New Year challenge
The discovery has been kept hidden from the public in tents to prevent the site from being contaminated by curious citizens wanting to have a peek at the dig.
This became quite a challenge, particularly when the square turned into a bit of a 'battle ground' on New Year's Eve, but the sites were sealed off with heavy iron plates.
The majority of the fragile skeletons have been transported to the Faculty of Health and Medical Sciences at the University of Copenhagen for further tests.
Following that, they will be moved to the Natural History Museum of Denmark for further examination. It is expected that the tests will reveal new information about the people who helped found the Danish capital a century before Absalon built his castle there.
"This is completely new and will provide us with knowledge of a totally different calibre," said Jensen.