Things to do
On Screens: Is the shape of things to come statuesque?
---
This article is more than 5 years old.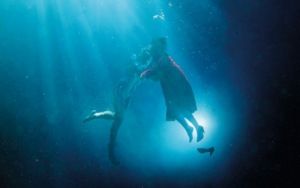 With 13 Oscar nominations, The Shape of Water (86 on Metacritic; released on March 1) is in select company, as only 12 other films in the history of cinema have earned as many. So it's no surprise to see it's challenging Three Billboards Outside Ebbing, Missouri in what is becoming a clear two-horse race to win Best Picture.
However, of those 12, seven failed to deliver. Lord of the Rings: The Fellowship of the Ring would have to bide its time, while the other four were a little too top-heavy in a certain element: Who's Afraid of Virginia Woolf (acting), Mary Poppins and La La Land (music), and The Curious Case of Benjamin Button (prosthetics).
The Shape of Water's Achilles heel is its genre. Fantasy isn't a favourite with the Academy. Only Lord of the Rings and Birdman have triumphed before, although you could argue that most musicals have heavy elements.
But don't dismiss the Game of Thrones factor. It took many viewers a lot of convincing to give it a chance – and conversely the show's biggest fantasy element, the dragons, which had initially dissuaded them, has ended up being one of their biggest thrills.
Length the wrong shape
It's hard to remember a year when the Best Picture nominee line-up was so untypical and inclusive of so many normally overlooked genres. And they've all got such short running times. Five of the ten are less than two hours in length, and the longest running film is only 132 minutes. In the 1990s, the average duration of the Best Picture winner was 154.5 minutes.
It's like Hollywood doesn't want to make those kinds of films anymore, even if it did work out (a decade too late) that it can charge you extra to see them. Making it as a miniseries or series is the most likely reasoning, which ultimately leaves the film industry with a shallower pool of content to choose from.
If anything sums up the seismic shift, it's how The Shape of Water is being described as Guillermo del Toro's best film since Pan's Labyrinth – a 2006 fantasy (albeit in Spanish) that didn't even make the shortlist for Best Picture despite three wins from five nominations. Such a film would probably walk it now.
According to the director, this is his most mature film yet, addressing issues such as trust, otherness, love and our very existence. Set during the Cold War (there will be parallels) a mute janitor (a career best from Mike Leigh regular Sally Hawkins) develops a relationship with a sea monster held by the US government. They want to vivisect it, she wants to give it a chance of la vida loca.
Dead like Zed baby
Upside down inside out is how most action film protagonists feel these days as 90-plus minutes of convoluted plot break and remake them, and Bruce Willis in Death Wish (Not Released Worldwide; March 8) and Jennifer Lawrence in Red Sparrow (NRW; March 1) are no exception.
Willis, revisiting the role made famous by Charles Bronson, has surely been here before as the homicidal maniac hell-bent on revenge – 39 times before according to the viral mashup Everybody Wants to Kill Bruce, which is well worth a watch. Few actors have changed as little over the last three decades.
Meanwhile, will Lawrence's outing be the latest vehicle banned by Russia, as its plot suggests they still train waifs as killers in their bid for global superiority. We've lost track of the number of Nikita wannabes in recent years: Salt, Lucy, Hanna, Atomic Blonde, Haywire, Colombiana … but have any of them been any good?
There's no disputing the quality of The Florida Project (92; March 1) in which rising star director Sean Baker (Tangerine) not only cast inexperienced six-year-old child actors in key roles, but also a woman who he came across on Instagram as their poverty-stricken mother in a part he had initially imagined Britney Spears playing.
With Willem Dafoe offering strong support as the manager of the Orlando motel where the kids run riot daily, this is one of the films of the year, while Baker is clearly one to look out for in the future.
Game on or not
Also bringing their 'A Game', or should that simply be game face, are Molly's Game (71; Feb 22) and Game Night (NRW; Feb 22).
The former is based on the memoir of the organiser of a high stakes poker game (Jessica Chastain) who ended up becoming an informant for the FBI. Unfortunately, the film is scripted and directed by Aaron Sorkin, so every character sounds implausibly intelligent – a way of writing that might work for internet billionaires (The Social Network and Steve Jobs), but not for the rest of us.
More dumbed down is Game Night, a comedy starring Jason Bateman and Rachel McAdams from the double-act who brought us the ridiculous Horrible Bosses. From the trailer, it looks a bit like David Fincher's The Game but with laughs instead of gasps. We're thinking horrible dross.
Last but not least, Mute (Neflix; Feb 23), which is heading straight to the small screen, has the pedigree to sing its praises. According to director Duncan Jones (David Bowie's son), it's a sequel to his brilliant debut Moon that has heavy Blade Runner influences.
This Heather's on fire
You would have thought the influence behind new series Heathers (HBO Nordic; March 8) would be obvious, but if its trailer is anything to go by, it's more Mean Girls than Scream Queens. It has to be said that serialising this beloved film is a massive risk, so it's no surprise to see the trio of venomous vixens bear no resemblance to the original line-up thanks to a stereotypical twist.
"Fat kids can be popular?" a teacher asks of Heather #1, who together with an Asian girl and gay boy mercilessly bullies the kids who should according to the high school manual be popular, but aren't. Not immune to risk-taking, it's even cast Shannen Doherty as a teacher.
Staying in school, Everything Sucks! (Netflix; out since Feb 16; 62 on Metacritic) combines classic high school film ingredients – outsiders, kids making movies, the pre-smartphone era – to give young teens hooked on Stranger Things a new darling.
Released stateside meanwhile, which is no guarantee they will arrive anytime soon, are The Looming Tower (Feb 28), a compelling looking miniseries that charts the US intelligence agencies' failure to stop 9/11; Good Girls (Feb 26), a dramedy series in which three moms rob their local supermarket in disastrous fashion; and Life Sentence (March 7) in which a woman in remand must answer for all the ill-advised decisions she made with only weeks to live.
And don't forget the UK, or should that be make a swift Brexit? Troy: Fall of a City is another poor Games of Thrones wanabe, while 'dramatic' miniseries Trauma is a damp squib best avoided.
Suffice it to say, the only way either will get 13 nominations is as ballast in a plummeting balloon.