Things to do
Performance Review: Theatre we can all enjoy with Vanessa, Zimba and Dina … and like!
---
This article is more than 5 years old.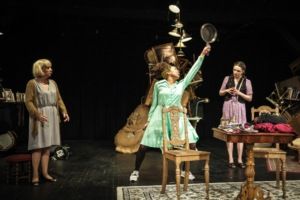 For a play not short of words, playwright Christopher Durang would have marveled at how the best lines during this rendition of his Tony-winning 2012 play 'Vanya and Sonia and Masha and Spike', ongoing at Huset's International House of Theatre (HIT) until March 4, were monosyllabic.
Vanessa Poole, a delight as always as Sonia, must have thought she'd nailed down the bragging rights with her luxurious utterance "Shaaaawh" – the kind of sarcasm so alien to American writers a generation ago, of which they have now become the masters.
But she hadn't reckoned on Zimba, the beautiful Mallorca-born dog on the arm of Masha (Dina Rosenmeier), whose second act howl couldn't have been better timed, directly following the revelation that a off-stage character was gay.
It embodied the pain of a General Hospital lifer having their wildest dreams quashed at the thought of their favourite character becoming romantically unavailable, and half the audience were still laughing about it in the foyer afterwards.
It was the kind of truly magical moment that only live performance can deliver, underlining why we should all make the effort to go to the theatre once in a while.
Good fit for young audiences
Zimba's howl evoked 'General Hospital', not the UK's 'Casualty' for example, because this play is an American one with some references that might escape European audiences.
But mentions of TV shows and personalities aside, it is refreshingly modern, neither puritanically passé nor fantastically futuristic, with contemporary content relevant to everyone.
The use of a smartphone plays a pivotal role in a climactic scene, and themes often mentioned in the context of social media being the scourge of our existence are central to the tale.
Narcissism, celebrity and under-achievement feature heavily as two siblings who stayed at home to care for their Chekhov-loving parents face having their home sold by the sister who escaped to become a Hollywood star as the principal in the franchise 'Sexy Killer'.
Students deliver the goods
This is what you call an ensemble! Each actor, with the possible exception of 'girl next door' Nina (Seren Oroszvary), has a sizeable part, but even she has a tasty monologue to sink her teeth into in a play within a play – a chance to 'audition' before Masha, the star she idolises but also intimidates.
Talking of sizeable parts, Masha's toyboy Spike (Joshua Shafir), who she helped very nearly land the lead in 'Entourage 2', spends half the play in a state of undress. By literally following his lover's demand to do "a striptease in reverse", and then recounting his Entourage audition, he gave us two of the night's most fun-filled moments.
And fun is never far away when Theresa Mangara enters the stage as Cassandra, the siblings' housekeeper/voodoo doctor. Her physicality is infectious, and her delivery uproarious.
All three actors are students at the Københavns Film & Teaterskole thanks to a collaboration with HIT's resident group Down the Rabbit Hole Theatre, and they bring unbridled enthusiasm to their roles.
Siblings on fire
But as the tile suggests, this is principally the story of Vanya, Sonia and Masha, and all three are brilliantly cast.
As the patriarch of the family, David Barrett, who played a no-nonsense cop in last year's 'The Pillowman', is more at home as the gay brother selflessly supportive of his sisters. It's a performance that grows on you until the point you realise he's the anchor of the piece.
As Sonia, Poole gives yet another memorably quirky performance, employing a medley of richly comic accents (her native Pennsylvanian,a touch of Brooklyn when she smashes a coffee cup or two, and Maggie Smith's Oscar winning-turns in 'California Suite' and 'The Pride of Miss Jean Brodie') to leave us giddy with laughter. She's almost unrecognisable such is her immersion, and the completion of her arc is the play's most touching moment.
And Rosenmeier brings undeniable star quality as Masha. As befitting of her Hollywood status, she's glamorous, shallow and sleeping with a man half her age, but behind her glossy veneer, Rosenmeier gives the ogress a pathos that makes her redemption a feel-good moment. And she also shines as a comic actress – the acting techniques monologue is a particular standout.
A directorial masterclass
If anything, Rosenmeier's performance reveals the only serious flaw with the production: the beat-nicking. No, not Kerouac and Ginsberg, rather the actors guilty of not waiting the appropriate time for their fellow performers' lines to resonate with the audience.
Particularly in the first act, several of Rosenmeier's killer lines are drowned out by her fellow actors. But it's something that will no doubt improve with future performances – mission impossible for Zimba.
Suffice it to say, this has been another masterclass by director Jeremy Thomas-Poulsen. An ingenious set enabled the siblings' cherry copse/orchard and wading pool to come alive through the door to the foyer, placing the audience on a virtual verandah looking into the home.
And what a home! Instead of trying to create a complete living room, artistically-arranged piles of furniture conveyed a sense of the whole house and its history.
They were appropriate fittings for what was a superb ensemble piece. Shaaaawh … Zimba was the star, but as far as productions go, this was still the dog's bollocks.