News
Are you harbouring a young Caroline Wozniacki at home?
---
This article is more than 5 years old.
Grand slam success might not happen, but at Super Duper Tennis your kid will learn a competitive and character-building sport, and above all have fun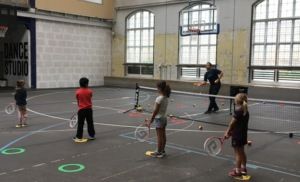 Caroline Wozniacki's recent triumph in the Australian Open, the first grand slam title of her career, will no doubt encourage many young Danish girls to take up the sport, but in a country bereft of tennis courts, where are they supposed to learn?
Well, one new company has the answers! Super Duper Tennis thinks outside of the court to make tennis more accessible for kids to learn and play!
Learning the FUNdamentals
Launched in New York City, Super Duper Tennis has recently brought its brand of 'street tennis' to Copenhagen with fun-filled group tennis classes available for kids aged 3 to 11.
Super Duper Tennis classes focus on providing a safe, exciting and educational experience.
Kids learn the FUNdamentals of tennis on sized-down kids courts set up in and or on unconventional settings where kids play with smaller racquets, balls that bounce at their height and lowered nets – all to ensure early success and confidence when learning the game.
Easter break opportunity
Classes are grouped according to age and skill in low ratio settings, and kids are taught a progressive based curriculum in English by enthusiastic, experienced and passionate coaches.
Starting from April 7, Super Duper Tennis is offering group kids tennis classes (ages 3-11), both on weekdays and at the weekends, at indoor venues in Vesterbro, Osterbro and Valby, as well as a four-day Easter Break Camp (March 26-29) for kids aged 4 -11 in Valby!
Registration for our spring classes and Easter Break camp are available online at: copenhagen.superdupertennis.com.
Adult classes too
Meanwhile, adult group fitness tennis classes on the small courts are also available for beginners on Sundays in Valby! Adults will get fit to music while working on their game. Classes start on April 7!
For all inquiries, please contact Super Duper Tennis at: cph@superdupertennis.com  or 2195 1090.