News
Culture News in Brief: Denmark a nation of pig farmers? Almost!
---
This article is more than 5 years old.
Elsewhere, Denmark is punching above its weight in cinematography and animation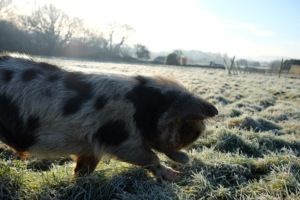 Denmark is a nation of pig farmers, you often hear, and now a survey has confirmed it is one of the professions Danes most identify with.
When 512,000 Danes took the online survey "Which character from 'Matador' are you?" – dr.dk's most read article of 2017 – fully 19 percent discovered that they most resemble Kathrine Larsen, the wife of Grisehandler Larsen, the town's pig dealer.
READ MORE: Matador, je t'adore! You hold a monopoly on all our hearts
Ingeborg  rules supreme
However, Larsen was not the most popular character, as that honour befell Ingeborg Skjern, the wife of the main character Mads Skjern, who was portrayed by Ghita Nørby.
Cecilie Nielsen, an expert on the series, told DR that Ingeborg "is extremely sympathetic and has a great sense of justice and empathy".
Completing the top ten most identifiable characters were Elisabeth Friis (10 percent), Mads Skjern (9), Kristen Skjern (8), Lauritz 'Red' Jensen (7), Grisehandler Larsen (6), Laura Sørensen and Agnes Jensen (5), and Hans Christian Varnæs (3).
---
Going south: fewer guests, smaller budget
The Northside festival in Aarhus has responded to guest complaints that too many people attended their event in 2017, creating cramped conditions that were not helped by sustained periods of torrential rain on more than one occasion. Northside did not specify how many fewer guests there would be, stating only that it would be in the range of "a few thousand". The festival has also confirmed it has cut its budget for paying musicians. Last year it spent 35 million kroner.
READ MORE: NorthSide Day 1: Torrential rain, Swedish beachware and a pig's mask
The shape of things to come
Dan Laustsen, the 63-year-old Danish cinematographer nominated for an Oscar for 'The Shape of Water', has revealed that offers of work, and interest in his portfolio, have been increasing since the nominations were announced in January. "There's been more attention – especially in America," he told DR. Originally from Aalborg, Laustsen was educated at Den Danske Filmskole and has won several Roberts and Bodils. His body of work includes 'Gummi-Tarzan',  the DR1 mega series' 1864′, and 2015 film 'Crimson Peak ', which like 'The Shape of Water' was also directed by Guillermo del Toro.
Working for Disney in Viborg
Nørlum, an animation company based in Viborg and owned by two Danes and a Canadian, are eagerly awaiting the critical response to a new Disney series 'Big Hero 6' – a spin-off from the 2014 film of the same name. Of the 25 episodes of the 2D cartoon series, Claus Toksvig Kjær, Frederik Villumsen and Jerrica Cleland carried out the animation work on 15. The series is being released episode by episode on iTunes and dr.dk/binge every Tuesday. Nørlum's portfolio also includes 'On the Top of the World' and the Oscar-nominated 'Song of the Sea'.
READ MORE: Turning up to the Oscars for more than the minor gongs