News
Danish startup Tattoodo inks its mark on an old industry
---
This article is more than 5 years old.
Startup forms a new online community of tattoo admirers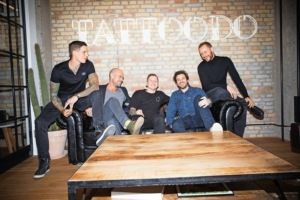 First modelled by the ancient Egyptians, tattoos have been around for thousands of years.
Tattoos to show, tattoos for show
Throughout the 20th century they have often been used to show individuals' affiliations to certain causes or communities.
For example, members of the Hells Angels are known to obtain specific tattoos, both as an expression of their brotherhood and as a declaration of their loyalty.
However, when a group of Danish entrepreneurs set up their company in 2013 they were responding to a new global trend that was redefining the industry.
Quickly successful
The founders of Tattoodo recognised that tattoos in the modern era were being treated as exclusive and unique types of art, with global demand for their visibility rapidly emerging among a young, dedicated public audience.
The online site and app that they launched in 2013 created an international forum for individuals to discuss and share tattoo designs.
However, the platform also exalted the status of previously maligned tattoo artists – making certain individuals in the profession world-famous in the process.
Tattoodo has been phenomenally successful, regularly accumulating around 20 million users per month, with 41,000 industry professionals currently registered among its online community.
Inspired design
Caspar Høgh, the COO of Tattoodo, described in more detail the reasons for why he and his associates were motivated to create their novel social network.
"Today, tattooing has a huge global audience with roughly 36 percent of millennials inked around the world," he explained to CPH POST.
"We realised [prior to creating Tattoodo] that this massive interest and demand for inspiration was not being properly met by existing platforms like Instagram and Pinterest, which both have a broad focus."
According to Høgh, tattoo artists also want to improve their means of connecting with potential customers.
"There seemed to be an obvious gap in the market from a consumer perspective, and when we started talking to professionals working in tattoo shops it was apparent they also felt they lacked the ability to get in touch with potential clients," added Høgh.
Stars credentials
The original success of Tattoodo, Høgh contends, was in part due to the heightened status of the artists the platform was able to attract – for example, former footballer Daniel Agger, who was one of the co-founders.
"We have some of the biggest superstars in the tattoo industry associated with our platform, either as ambassadors or in the founding team," he said. "It was the popularity of these individuals that gave us our initial boost."
Despite this, Høgh argues it was the performance and usability of the online platform that had allowed Tattoodo to retain and increase its base.
"It was our ability to create some of the most engaging social media content in the world that really magnified the numbers of people following us," he continued. "This has actually given us the privilege of creating new stars within the tattoo community."
"Chris Garver, with close to a million followers, is a good example of someone who's popularity we were able to elevate significantly."
Global potential
In the future Høgh suggests the company will focus on broadening its reach to a wide range of new markets.
"Right now our focus is on the US and western Europe where we still have a lot of room to grow," enthused Høgh.
"But from next year we plan on making a big splash in Russia and China – countries that also have millions of passionate tattoo enthusiasts."