News
Danish News in Brief: Press photographer's case to go up to District Court
---
This article is more than 5 years old.
In other stories, TV series apparently not affecting aid donations and bad weather caused problems on the roads earlier today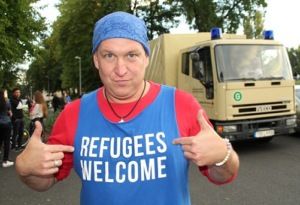 Back in 2015 Martin Lehmann, a press photographer for Politiken newspaper, was taking pictures of streams of refugees on the motorway in southern Jutland when the police tried to move him on.
Lehmann resisted and was arrested and later charged with disturbing the peace. The case is now going to the district court because Lehmann argues the situation was one that the press had a duty to cover, reports Jyllands-Posten.
At the time, the photographer was given a fine of 1,500 kroner that he refused to pay. Ruling on this back in January the local court at Sønderborg said that his presence could not be construed as "unjustified", so the fine was waived. At the same time, the court conceded the police efforts to make the press leave the motorway were "fully justified".
The prosecution appealed the case to the district court, but because the amount involved was under the threshold to appeal, they had to argue there was an important legal principle at stake. This has now been upheld by a tribunal so the case can now go further.
---
Donations down, but TV series not to blame
Despite the dystopian view painted of aid work in Africa by a new TV series entitled 'Liberty' on Denmark's national channel DR1, people are still willing to give to charity. Aid organisation Folkekirkens Nødhjælp has just been out collecting for the world's poorest people and this year 11 million kroner was donated, reports DR Nyheder. That was 3 million less than last year, but the organisation thinks that it was the cold March weather that was to blame rather than 'Liberty'. Birgitte Qvist-Sørensen, the organisation's secretary general, had previously expressed fears about falling revenues as a result of the series but has changed her mind. "I've never had the chance to talk about aid work so much in the Danish media as I've had since 'Liberty' started, so I think it would be wrong to imply that it had so much effect that we collected less money this year," she said.
Fog and ice cause accidents and delays
Some motorists woke up to low visibility on the roads this morning as a number of areas were shrouded in fog. Police on Funen reported a three-car pile-up on route 9 near Tåsinge The new bridge over the Little Belt, Lillebæltsbro, was also blocked as a result of an accident, reports DR Nyeheder. The bridge was expected to be clear again at around 09:30. In Jutland, there was an accident on the southbound lane of the E45 motorway. Police are advising motorists to reduce their speed and to make sure they turn their fog lamps on. According to DMI, the fog means that motorists will have difficulty seeing more than 100 metres ahead in many places in Funen as well as a large part of Jutland. There may also be slippery roads caused by ice. The fog has been caused by a combination of warm, damp air and hardly any wind across the country.
Man killed by train in Jutland
On Saturday, a man was killed when he was struck by a train at Gødstrup, northwest of Herning in Jutland. It appears that the man was trying to cross the tracks when he was hit, reports DR Nyheder. The accident led to train services being suspended for a short time, but services are now back to normal.