News
Massive nationwide police traffic campaign this week
---
This article is more than 5 years old.
Fasten your seatbelts and put away the mobile phones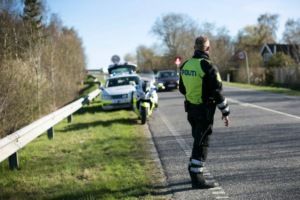 Police across the country are keeping a watchful eye out for drivers who are forgoing their seatbelts and using their mobile phones whilst driving.
And the targeted traffic controls against certain violations, as is the case with the current campaign this week, is not a random act by the police.
"About every third traffic fatality in Denmark can be partly blamed on a lack of awareness, so put on your seatbelt and focus your attention on the traffic," the police wrote on Facebook.
READ MORE: Fewer killed on Danish roads in 2017
2020 strategy
The police reveal that drivers who use seatbelts have a 50 percent less chance of being killed in traffic, while using the mobile phone behind the wheel can quadruple the risk of having an accident.
The police also offered some interesting stats in regards to driving while using a mobile phone. Just taking a four-second peak at the phone while driving at 50 km/h means you have driven for 56 metres 'in the blind'. That's upped to 89 metres if you're going 80 km/h and to 122 metres at 110 km/h.
According to the police, they have a strategy looking ahead to 2020 that aims to focus on inattention, speed and drink driving, because these are the violations that cause the most accidents.