Things to do
Performance Review: La Traviata lights up Gamle Scene
---
This article is more than 5 years old.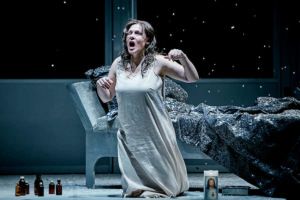 Originally written by Giuseppe Verdi in 1853, Den Jyske Opera's production of the classic piece premiered on Copenhagen's Gamle Scene stage earlier last week.
Negotiating love, life and death
The sensual romantic tragedy is based on the trials and tribulations of courtesan Violetta Valéry, who has recently come to realise her own mortality and impending death. Navigating this realisation, the character falls for a man of high society named Alfredo.
As the lovers' story plays out on stage, a cast of singers is introduced to the audience as a feast for the audience's eyes and ears. Rich silks and feathered accessories flutter across the stage as conflicts unfold and the courtesan negotiates the boundaries of high society.
The red velvet and gilded interior of Gamle Scene provide a more than appropriate backdrop for the stage set of rotating mirrors and artful lighting.
Indulge in opera
The performance itself is lustfully charged through and through, as tales of sex and betrayal manifest themselves through the overindulgences of characters. Elin Pritchard, who plays the part of Violetta, delivers an emotionally-charged performance full of rich yet high tones.
Unapologetic opulence is balanced with a stark realisation of humanity and mortality in this performance – a must-see, beautiful time-warp of an experience.