News
Elderly people often clueless about first aid, study shows
---
This article is more than 5 years old.
Whilst society in general has become better at it, one segment is lagging behind when it comes to responding swiftly and efficiently to a medical emergency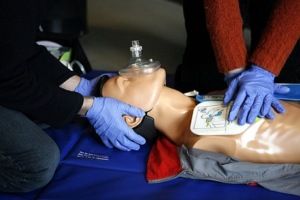 Statistics show it is often people over 70 who have heart attacks. It is also a fact that the chance of surviving one is almost four times greater if the patient receives first aid before the ambulance arrives.
However, confronted with this situation, elderly people often don't know what to do.
READ ALSO: Thousands of Danish daycare workers lack first aid knowledge
Figures collected by Voxmeter on behalf of the Danish Red Cross show that 93.4 percent of 18 to 29-year-olds have been on a first aid course while the figure for people over 70 is only 61.6 percent, reports DR Nyheder.
In addition, even if an older person has been on a first aid course, it is often more than 10 years ago since they did it.
Never too late to learn
The Danish organisation for the elderly, Ældre Sagen, finds this a disturbing trend.
"This is a serious problem for society because it is to everyone's advantage if every Dane knows first aid," said Lars Linderholm, the head of the organisation's volunteers department.
He would like to see more done to reverse the trend, as he contends it is never too late to learn first aid.
"It's important we target these courses at the older segment of society," said Linderholm.
According to Lindholm, when the right courses are offered, there is a high degree of interest. The problems elderly people have with first aid courses are often due to the fact that unlike their younger counterparts, they have not been offered courses at school, work or in connection with taking their driving licence.