General
Leg-tied and a little legless: saluting the legends of 2018
---
This article is more than 5 years old.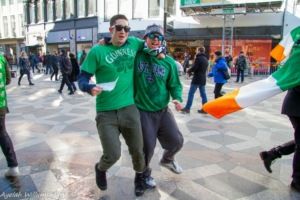 Her famous green wellies are unmistakable. And what colour is her bicycle? Silly question!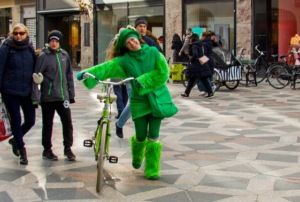 For 18 years, Siobhán Kelleher-Pedersen has been organising the St Patrick's three-legged Charity Race in every shade of green imaginable. Every year, it is a knockout success.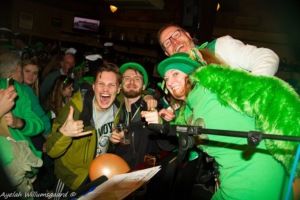 The winners were a pairing called Junior Senior (Mathias Randrup and Mathias Holst) who romped home in just 16 minutes 30 seconds, three quarters of a minute clear of their nearest rivals. Pictured with the victorious pair are Siobhán and her big brother, John Kelleher, a co-organiser since he hung up his racing boots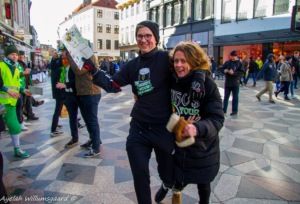 And Saturday March 17 was no different, as 520 racers braved icy winds to take on the challenge of running three-legged to six pubs and drinking half a pint of beer at each.
This year's race raised 53,630 kroner, taking the total generated since it became a charity a decade ago to 462,780 kroner. Who would bet against them raising a million by 2028!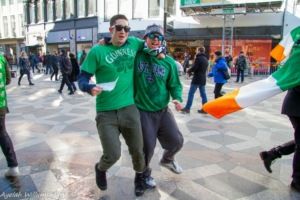 The race attracts all manner of wacky costumes and hats, and over the years more and more mixed pairings have been entering – one even won it once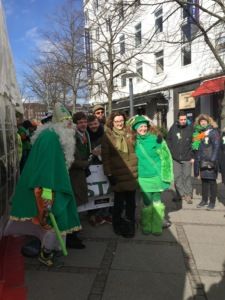 Irish ambassador Cliona Manahan (centre with Siobhán) had the honour of starting the race, which visited Kennedy's (registration), Axeltorv (the start), The Shamrock Inn, Pub and Sport, The Globe, Victoria Pub and The Dubliner (finish)