News
Surplus to requirements: internationals address root causes of food waste
---
This article is more than 5 years old.
The grassroots organisation Foodsharing Copenhagen is finding new ways to fight a prevailing social problem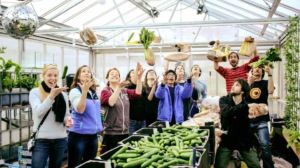 Supermarkets have become decadent palaces where we can buy any type of fruit and veg – from Californian kiwis to Colombian avocados. However, there's a cost for this abundance unseen by most shoppers.
Industrial farming practices and highly competitive market conditions are responsible for the global over-production of perishable goods. This means that a lot of the food arriving at national distribution depots will inevitably end up as refuse.
In Denmark, recent food waste prevention strategies have attracted wide support. Nevertheless, a group of international activists are highlighting this as a systemic problem, asking if this is the best way to feed our growing population.
Rapid story of success
No-one likes to see good things go to waste, not least Danish politicians. Many within Parliament are leading advocates of global policy directives created to prevent the waste of food in countries around the world. Their ongoing support for this cause can be traced back to a campaign called Stop Wasting Food (SSAM) founded by a Russian émigré to Denmark, Selina Juul, in 2008.
Her demands for supermarkets to curtail their food waste gained national attention within weeks of their issuance after Rema 1000 agreed to drop bulk discounts on fruit and vegetables. Other major grocery stores in the country followed suit with similar strategies designed to reduce commercial food waste. SSAM also inspired several separate initiatives, including Your Local, Refood and Wefood.
The rise of the movement was seized upon by five successive governments, which partnered with SSAM to create a range of national and international initiatives. In 2015, it was announced that Denmark had reduced its national food waste by 25 percent over seven years – a figure that has been lauded internationally as proof the country has enjoyed tremendous success tackling the issue.
Narratives like this are gratifying as they demonstrate how, against the odds, local activists collectively find a solution to a global issue. Nevertheless, these types of stories can also mask our awareness that much more is needed to be done to resolve this problem in its totality.
Grassroots champions
This is the assertion of a cohort of volunteers from the action group Foodsharing Copenhagen (FSC), which was founded in 2015. The local organisation, which is linked to a broad association first established in Germany, is now the second largest of its kind in Denmark (behind SSAM), with close to 1,000 registered volunteers – roughly 95 percent of whom are internationals.
However, the organisation's strategy differs from previous attempts to tackle food waste. Instead of working with the likes of Rema 1000 or Netto, it collaborates with wholesalers who supply stores throughout the country. FSC currently operates a twice-a-week collection of fruit and vegetables from these vendors, taking away tonnes of edible food that would otherwise be binned.
At its events, teams of 40 volunteers work rotation-shifts to sort and categorise the collected items. But when it comes to handing the food out, unlike other commercial ventures, FSC operates under the principle of unconditional redistribution – so anyone, rich or poor, is allowed to take the unwanted produce for free.
Food for thought
"You first have to understand why we have food waste," FSC chair Saimon Skurichin explained to CPH POST.
"After this you seek to find ways to prevent it from taking place. Once you've done all you can to prevent food waste, then you see what you can do to maximise the use of what is left, which is called the national food surplus."
An approach that focuses on distributing the surplus, he claims, goes to the source of the food waste issue in Denmark – one stage before it blights supermarket shelves.
"We work with the biggest wholesalers in the region who supply almost all the food to Copenhagen, and our message from working with them is quite simple: all surplus food currently being produced should be shared," he declared.
"We know why the problem [of food waste] is happening, but until we can figure out a grand [national] plan of how to reduce it, all we can do is redistribute the surplus that we as a population continue to produce," he added.
Numbers don't add up
Speaking as a researcher, separate from his role as head of FSC, Skurichin was privately sceptical about the validity of figures used to describe the monumental success of Danish food waste prevention.
"The problem [that I have with this] is that when I did my research I found there were some estimations of the food waste output for different types of residential households that are scientifically accurate," he contended.
"However, in similar studies conducted on businesses and corporations in the private sector, the data is produced and owned by the companies. In these cases, you can't get hold of the real numbers as they're not obliged to give them to you."
While Skurichin appraises that Denmark is clearly doing a lot to combat food waste, he doesn't believe all the numbers currently used to calculate the national reduction were correct.
"The country is a frontrunner – there's no disagreement about that. No other countries are doing anything better than Denmark, but these figures in my opinion seem to be nonsense," he affirmed.
"We can't save it all"
Those who regularly volunteer with FSC are a band of highly-motivated individuals who work hard through a hands-on approach. But it is rarely plain sailing, according to Karoline Hill, who has been a volunteer since its inception.
"We [volunteers] represent the grassroots players in the fight against the food waste problem," she told CPH POST.
"However, the truth is that an organisation such as FSC should not exist – it should not be necessary for us to have to share food, which is perfectly fine to eat, but would otherwise be thrown out."
Despite her grievances, Hill argued that the organisation's events were opportunities through which attendees were made aware of the issue of food waste.
"In our roles, we just hope we can get people to understand this [problem] and get them to try to change their behaviour because consumers are still one of the largest contributors [to food waste] – so that's why we want to work with them," she determined.
"Our major goal is not just to save surplus waste but to get people to understand why the system produces waste."
Community spirit
Nevertheless, the organisation has become a tightly-bound social network that is growing all the time. Mourad Karib, a volunteer with FSC for a year, believes the organisation is particularly popular with non-Danish residents.
"A lot of international people struggle to make a life for themselves when they arrive in Copenhagen," he explained. "They need to find a place [to live] and find a job. It can be very hard for them, so if they find free food and people to share it with – then they feel good and they will come again [to events]."
In this sense, Karib demonstrates that the work of volunteers doesn't only push the agenda of food waste prevention forwards, it also serves to encourage wider community participation.
"For me at least, a FSC event is a place I know I can go every Saturday and you get this feeling of being part of something," he enthused.
"These people are welcoming, and they are my friends – and we work together on our joint passion to take care of the world."