News
Why the masters of English are no longer the native speakers
---
This article is more than 5 years old.
Danes rank third, fully five places above the Brits, in language proficiency ranking topped by the Swedes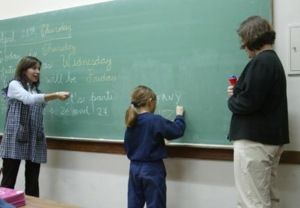 As if the British don't have enough to worry about with Brexit! Now a new survey of the best English-speakers in the world has placed them a lowly eighth – not only behind the Americans and the Australians, but the whole of Scandinavia too.
Previous studies have consistently ranked the Swedes as the best non-native speakers of English, but according to the Oxbridge Institute of English Language they are the most proficient outright.
Basic errors to blame
"Recent studies tend to assume native speakers of English are the best, but the rest of the world is catching up, with some countries – like those in the Nordics along with the Netherlands – bringing a new standard of excellence free of routine mistakes," explained Peregrine Dant, the author of the study.
"It's well documented that many of these speakers struggle to follow the idiomatic content of many native speakers' discourse. But that's not a failing. What is a failing is the widespread misuse of English words by native English speakers."
'Literally' the biggest culprit
'Literally' was singled out by Dant as the worst culprit. According to the study, it is a word that is used by the 16-24 age bracket in the UK in every other sentence – once every 26.7 words – and in 91 percent of cases the usage is incorrect.
"Find me a Swedish teenager who will tell you that something is 'literally the bomb' or that 'they don't know nothing'. Compare the English of a Swedish and British speaker in this age group, and the Swede will on average make considerably fewer mistakes. And it doesn't get much better the older you get."
Blaming the likes of Jamie Oliver
Other failings by native speakers rarely found among proficient non-native speakers, contends Dant, include the use of 'you know' at the end of a sentence; the incorrect use of basic words such as fewer; randomly switching from British to American English at will; poor apostrophe usage (particularly involving contractions); and outdated punctuation adhering to centuries-old rules: "Who seriously breathes before they say 'too' at the end of a sentence!"
"Over in Scandinavia, for example, English lessons are firmly grounded in grammar. In the UK, children are expected to develop their language through instinct. But if role models like Jamie Oliver are continually butchering their vernacular, what hope do they have?"
Painful reading for Kiwis
Like in the recent non-native rankings, the Swedes were followed by the Netherlands, Denmark, Norway and Finland. Speakers in Australia, the US, the UK, Singapore and Ireland completed the top ten.
Some English-speaking nations didn't even make the top 20 – most notably New Zealand, which finished 28th, a place below Germany. "A few more vowel sounds wouldn't go amiss," noted Dant.