News
Sweat, blood and cement – the film studio built on audacity
---
This article is more than 5 years old.
CPH POST catches up with two Vesterbro-based film-makers building from the bottom up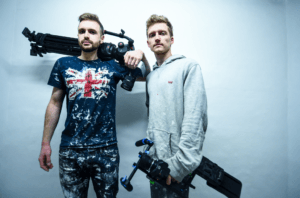 I wasn't sure what to expect – even as I passed under the large letters standing on the window above the entrance: 'FILMSTUDIO.dk'.
As I enter I find myself in what can best be described as a scene pulled from a Dr Seuss picture book. Dark pipes jut out from slanting walls, snaking their way through a cavernous interior.
The two men sitting across the table grin back at me, their faces dusty and clothes splashed with paint. I sip my tea, picking at what looks like a small lump of cement. Jacob Martin, the younger of the two, leans forward.
"It's good for you," he tells me, turning to gesture at the second man, James Ackroyd. "We've inhaled a couple of kilos each over the last four months."
The house that James and Jacob built
Since late last year, Martin and Ackroyd have been tirelessly renovating their Vesterbro basement a stone's throw from central Copenhagen – and give or take a few plastic sheets and unfinished walls, it looks like mission accomplished.
"I never realised that filmmaking required so much construction," I venture.
"That's the beauty of it: filmmaking requires every inch of your expression," replies Ackroyd.
"Once you open that door, there's the slow realisation that a lot of what we separate can actually be achieved with those same thought processes: trial and error; the courage to be honest about your choices, no matter how smug or stupid you might feel for making them; and commitment to your craft and to yourself."
"And YouTube tutorials," adds Martin. "My mother used to tell me that creativity is just different ways of expressing yourself through problem-solving. If your expression takes a form that others consider interesting, then you're on to something. Thanks to the age we live in, we're not only seeing a boom in this way of thinking, but also new ways of solving problems in our own lives. When we arrived here we had no construction experience, and we expected the whole process to be a lot more complicated. We not only proved ourselves wrong but also managed to realise a pretty big dream of ours in the process."
No longer the domain of big studios
We decide to take a look around the premises. Located on Vesterbrogade, not far from the Central Station, it is over 100 sqm in size, but until the pair snapped it up, it had been up for rent for many months. It wouldn't have looked out of placed in a bombsite.
I follow them down a corridor to an adjacent room. As we turn I can feel my eyes expanding suddenly, my vision filled with green.
"It's a green screen!" I blurt out. "You passed the test!" laughs Martin. "The colour really pulls at your eyes, doesn't it?"
I nod, still staring at the screen.
"It's not something that most people think of, but it really is worth considering." continues Martin.
"About 90 years ago the first green screen was used, although it was blue-back then. As you can imagine, without computers, this required more resources than the average person had access to. The film industry in general has always been quite elusive, mostly due to the cost of everything. Fast forward to 40 years ago, digital cameras began to appear, and the process of creation becomes easier. Do you see what I'm getting at?"
I don't, but I nod anyway.
"Whether you're a fan of technology or not, it's reasonable to say that things have become easier because of it. In the last 10 years we're seeing more and more accessibility afforded to individuals, and you can only imagine what will come in the next five. Kids are throwing up sheets in their bedrooms and dominating markets that have popped into existence over the last decade. With the set-up you're seeing here, you can turn a small room into a world of possibilities."
Taking control of their own future
I rubbed my eyes as we moved away from the green room, taking a seat in a small enclave. The world seemed to have turned purple.
Ackroyd pulls up a seat next to me.
"What Jacob is saying is we're moving towards a point where our only limitation will be our creativity and our ability to adapt to the changing landscape," he says.
"I grew up seeing passion for a career viewed as a novelty, or a lucky break. But today it's inspiring to see that more and more people are making the leap and taking control of their own futures. The line between career and passion doesn't have to be so rigid. Yes, things have gotten extremely messy with all of this, but that's only because we're relying too much on our tools and forgetting the most important thing is our personalities, our inquisitive natures – the ability to tell our stories in new and inspiring ways."
"That's what this place is about. We all have something on our mind, and while for some it's enough to spend all day on social media and become indistinguishable from the very tool that was designed to help make our lives easier, others demand more for themselves. Like us, they hope to develop something more meaningful, to use these new resources to create, and to reach further than has even been imaginable before."
One lump or two?
The room falls silent, and as one we all seem to exhale. I watch as they catch each other's eye before erupting into laughter.
"Wow!" laughs Martin. "We're sorry. That got seriously intense. We've been down here a long time. Would you like another tea?"
"Sure. This time, two lumps of cement."