News
Science & Research News in Brief: Danish universities universally popular with fellow Nordics
---
This article is more than 5 years old.
In other news, home-grown industries are proving to be equally as popular, with high profile deals confirmed within the realms of construction and space exploration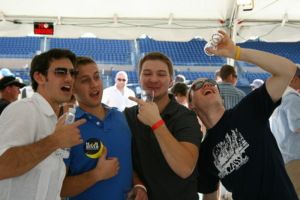 University attendance figures for the 2015-2016 academic year covering the whole of the Nordics confirm something the whole world has known since ancient times: students like to drink.
According to the figures from Nordisk Statistikbank (NS), Denmark is overwhelmingly the most popular choice with Nordic students who opt to travel abroad to study, but remain in the region.
However NS did not offer any explanation for the the popularity of Denmark, where the laws on alcohol are far less stringent than in Norway and Sweden.
One-way traffic
Fewer than 1,000 Danish students study in another Nordic country, with 619 opting for Sweden (many of them are science students at Lund University just over the bridge), 297 in Norway, 66 in Iceland and just 15 in Finland.
In contrast, there were 2,407 Norwegian students at Danish universities, 1,236 Swedes, 339 Icelanders and 241 Finns – so over four times as many.
DF unhappy with situation
Dansk Folkeparti voiced its displeasure regarding the trend in an opinion piece in Berlingske on April 4 – particularly with regard to humanities subjects.
But at present there is nothing it can do, as according to legislation adopted in 1996 regarding Nordic co-operation on education, all citizens in the region have the same rights and access to education in all of the region's countries.
---
Danish engineers to assess performance of printed bridge
The Danish consultancy Force Technology has been recruited to work on the construction of a 12 metre-long, 6 metre-wide printed bridge in Amsterdam's medieval quarter, reports Ingeniøren. Two of its engineers will be responsible for monitoring the stainless steel structure once it has been put in place in October – particularly how it responds to being used. Printed in one-metre sections, which will then be welded together by a robot, there are fears that cracks might appear once it is used. The bridge, which is described as curved and swinging, has been designed by Joris Laarman Labs and will be printed by MX3D.
Danes to co-construct huge telescope for the Chinese
DTU Space will play an important role in ensuring China has a new powerful telescope, which is capable of detecting x-rays from black holes and neutron stars, by 2025. Researchers from Denmark, Italy and Spain will work on producing the EXTP (Enhanced X-ray Timing and Polarimetry Satellite) telescope. DTU Space senior researcher Søren Brandt will take charge of making one of the four main components, the Wide Field Monitor instrument – work that has been ongoing since 2011, but now with a new client in mind.
Eye disease breakthrough at DTU Food Institute
Research conducted as part of a PhD study at the DTU Food Institute has led to a breakthrough in the treatment of endophthalmitis, an inner eye infection that can cause blindness if not treated properly and quickly. Using DNA sequencing to study eye fluid, the team at the institute can ensure patients are given tailored treatments that relate to the specific organism causing the disease. Previous DNA analyses yielded inexact results that often led to an erroneous identification of the cause.
Poultry were sacred in Roman Iron Age period – study
A Natural History Museum study of 96 graves found in 58 separate locations in eastern Denmark, which date from the first four centuries AD, concludes that poultry were particularly revered – most probably due to a Roman influence on status in the country. Non-existent centuries earlier, chickens and particularly geese were considered exotic species during the Roman Iron Age in Denmark and often buried alongside persons of importance, according to the study. One of its authors confirmed to Videnskab that the only trace of geese from the period is in the graves – thus underlining their special status.