News
Denmark in top five when it comes to safest roads in EU
---
This article is more than 5 years old.
Danes are moving in the right direction when it comes to reducing the number of people killed on the roads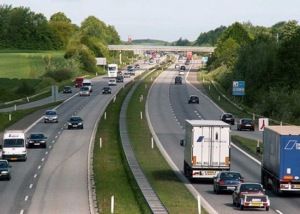 A new report from the European Commission puts Denmark high up the list when it comes to road safety in the EU.
The report looked at road deaths for 2017 throughout the EU, and when it comes to the fewest number of fatal road accidents, Sweden came top with 25 deaths per million inhabitants, followed by the UK, the Netherlands and Denmark – with 32 deaths per million inhabitants.
READ ALSO: Fewer killed on Danish roads in 2017
In Denmark's case this was a 13 percent improvement on the previous year, where 37 deaths per million inhabitants were recorded.
Bottom of the list were Romania and Bulgaria, with over 80 deaths per million inhabitants.
Bearing positive fruit
Denmark's increasingly better showing appears to be the fruits of initiatives that began in the early 1990s to improve road safety, which have been constantly re-evaluated and updated, reports News Øresund.
"The transport safety organisation Rådet for Sikker Trafik drew up an action plan in the '90s to halve the number of deaths and injuries in traffic over 12 years, and it was updated with new goals in 2013," said Jesper Sølund from the organisation.
Instead of halving the numbers, the 2013 update amended the previous wording to "… the number of deaths in 2020 should not exceed 120".
Another element of the original action plan was that cars should have their rear lights placed higher up so that they would be more visible over a longer distance.
In addition, roundabouts have helped to reduce accidents at junctions, and building more stretches of motorway has channelled traffic away from narrower country roads where accidents often occurred.
A greater awareness of safety
Danes have become more road safety-conscious in general. Seatbelt wearing has gone up from around 80 percent in the 1990s to 96 percent today.
"Generally, we are driving more slowly and the number of drivers under the influence of alcohol has also gone down. That is partly a result of more targeted police checks on motorists, which have stressed that the rules of the road really matter," added Sølund.
Sølund points out that the Nordic countries co-operate closely on ways of improving road safety. He also added that if Norway was included in the survey, it would probably come top of the list.