News
Government moves goalposts on Danish language tuition classes
---
This article is more than 5 years old.
Each module will cost 2,000 kroner, according to the government's latest tax bill proposal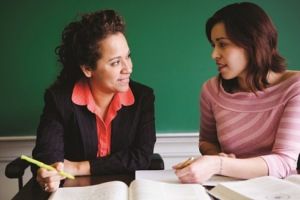 In a dramatic change of policy for Denmark, language classes will no longer be free for foreigners when the government's new tax agreement is approved by Parliament.
The government parties have the support of Dansk Folkeparti (DF) and therefore have the necessary majority, but is is still possible that amendments might be made before the July deadline.
2,000 kroner per class
Classes will still be subsidised but if the proposal goes though as planned, each module will cost 2,000 kroner, which means the six-module course will cost a total of 12,000 kroner.
In addition, students will still be required to pay a 1,250 kroner deposit per module, which will be refundable upon completion.
"The deposit and fees charged to participants will provide an incentive that should ensure that only economically self-sufficient people who are highly motivated start courses," noted the agreement.
Given that the passing of the bill is expected to be a formality, the measures are set to come into force on 1 July 2018.
Only two providers
There have also been fundamental changes in system regarding language tuition for adult foreigners in the Copenhagen municipality. Danish lessons have always been heavily subsidised but now the municipality is given a block grant instead of a 'per person' allowance from the government.
This was introduced mainly to encourage municipalities to tender for language school contracts in order to negotiate a lower price.
The upshot is that in Copenhagen the results of the bidding process were recently announced and as of 1 August 2018, only two language schools will now be offering municipal classes. A number of their competitors who have been in the system hitherto have either given up or had to switch to going completely private.
However, it is understood that one of the language schools who previously provided lessons has decided to appeal the municipality's decision, so things are not entirely finalised.
Playing harder to get
The right of access to education and benefits is also being changed. At present, you have to have been in Denmark for 7 out of 8 years in order to qualify. That is being changed to 9 out of 10 years.
On top of that is a supplementary demand that the person has to have worked 2.5 of the last 10 years.
The new regulations will come into force from 1 January 2019 for anyone who has entered Denmark after 1 January 2008 – both foreigners and Danish citizens – but will not apply to people already receiving benefits from 1 January 2019.