News
Organic farming in Denmark growing leaps and bounds
---
This article is more than 5 years old.
Just last year, an area the size of Langeland converted over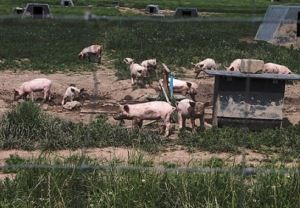 Statistics released by the Landbrugsstyrelsen agricultural agency reveal that at the end of 2017 more than 245,000 hectares of farmland in Denmark was organic.
The amount increased by 28,365 hectares over the course of the year – an area in size comparable to Langeland – and in total organic farmland now accounts for more than 9 percent of the total land under cultivation in Denmark.
This is the highest proportion to date and geographically it is mostly to be found in southern, northern and western Jutland.
Getting back to nature
"The amount of organic land in Denmark has never been greater. I'm glad that so many farmers are continuing to want to try their hand at organic farming," said the environment and food minister, Esben Lunde Larsen.
READ ALSO: Growing number of Danish farmers interested in converting to organic farming
As well as farmland, the number of organically-reared animals has also increased over the last year.
The number of organic chickens has doubled to the point where 1.8 million are now being produced. In addition, there are also 30,000 more organic pigs and almost 13,000 more organic cows.
A helping hand
A new 39-point government initiative was launched recently to assist conventional farmers who want to go organic and to cement Denmark's position as one of the world's leading organic farming nations.
"It is important that our farmers are able to produce the foodstuffs that consumers in Denmark and our export markets are asking for," added the minister.