News
Parking tickets and fines to no longer swell municipal coffers
---
This article is more than 5 years old.
Government ushers in new legislation to make arena fairer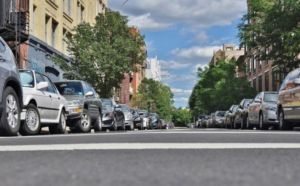 The government has teamed up with Dansk Folkeparti to usher in an initiative that will see municipalities that benefit from the high number of parking tickets and fines issued in their confines – such as Copenhagen, Frederiksberg, Aarhus and Aalborg – get less money in the future.
Municipalities like these will be allocated a lower state grant, leading to a better financial equilibrium and less emphasis on the issue of parking tickets being a money machine for certain municipal coffers.
"We mustn't punish busy families who depend on cars to make their daily lives function, or business owners who need to transport their goods to their customers," said Simon Emil Ammitzbøll-Bille, the business and internal affairs minister.
"When car owners pay to park their cars, the money should go to traffic-orientated investments, not used to fill municipal coffers or be spent on other arenas. Sometimes today it seems as if there are more parking tickets controllers than there are parking spaces."
READ MORE: Parking fines – a goldmine for the municipality?
Big city lights
Ammitzbøll-Bille said the move would also simplify the rules, reduce bureaucracy and put an end to the current parking ticket legislation favouring some municipalities over others.
In 2016, the municipalities scraped in 800 million kroner from parking tickets and fees (for illegal parking). It is particularly the country's biggest cities that have benefited from the windfall – with the four aforementioned municipalities accounting for almost 90 percent of the income.
But from 2019, 70 percent of the parking ticket funds will be deducted as part of a municipal block grant that will permit the municipalities to keep 30 percent of the funds for upkeep and investment in parking spaces.
They will also be able to keep 30 percent of the funds generated by illegal parking tickets, compared to 50 percent today.