News
Justice ministry estimates up to 200 eligible for compensation in Tibet case
---
This article is more than 5 years old.
The aftermath of the way police handled legal demonstrators during the visit of the Chinese President is now being totted up in financial terms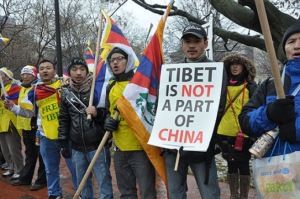 Although it will likely never be possible to fully get to the bottom of the events surrounding the visit of China's President in 2012, it is clear that the police acted illegally and unconstitutionally when they stopped peaceful demonstrators waving Tibetan flags.
Eight people subsequently sued Copenhagen's police force for infringement of their democratic rights and the police have decided to settle the matter out of court by paying each of them 20,000 kroner in compensation, reports DR Nyheder.
READ ALSO: Two senior Copenhagen police officers charged with lying in court
An expensive business
The police decision was rooted in the conclusions reached by the so-called Tibet Commission at the end of December last year that illegal orders had been given hindering demonstrators in being visible to President Hu Jintao during his state visit in 2012.
The same thing happened the following year when another high-ranking Chinese official visited Denmark.
The finance committee will today discuss a ministerial request to set aside more money for compensation cases that could be brought in future. The police estimate that there might be as many as 200 in the pipeline.