Things to do
On Screens: Infinity reasons why the Handmaid is spanking the Avengers' tails
---
This article is more than 5 years old.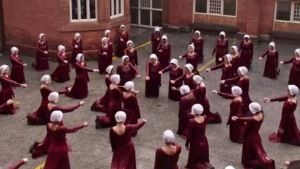 A new sub-genre is emerging: the TV drama presented as a miniseries, which after a successful release becomes Season 1. The trend has been around for a long time in other mediums: from Star Wars becoming Episode IV – A New Hope when it was re-released in 1981, or even The Bible becoming The Old Testament. Still, more often than not with a limited series, it's welcome news for its legions of fans.
Fans of foot fungi
Last year's The Night Of, the acclaimed Americanisation of the British miniseries Criminal Justice, complete with the weak subplot in which the defendant cops off with the juicy barrister, is one such example – namely because the ratings call the shots. If the viewers want John Turturro's foot fungi to return, they'll jolly well have it. But nothing's definite yet on that front. Talk is also circulating of a season 2 of Troy: Fall of a City – with The Odyssey, The Aeneid and countless other ancient texts to adapt – despite the lukewarm reaction to its mix of inspired moments and plodding storytelling.
A second season of The Handmaid's Tale (HBO Nordic; April 26) didn't have that luxury. Margaret Atwood's 1985 novel, the only source, pretty much ended at the same spot as S1. So, for season two we are heading into Game of Thrones territory. However, head honcho Bruce Miller, whose previous pedigree never suggested he might one day create and produce a multiple winner at the Emmys and Golden Globes, apparently had ten seasons in mind all along.
Ten seasons? Forgive me for taking that with a pinch of salt, as Miller made that admission in an interview with the New York Times following the S1 finale, by which time the series had been confirmed as a global phenomenon. A closer look at the show's development reveals that Ilene Chaiken, the creator and main writer of The L Word, deserves most of the credit for getting it made.
Rewarding slow-burner
Also returning for a keenly-anticipated S2 following a breakout debut is Westworld (HBO Nordic; April 23). While its first outing only scored 72 on Metacritic, compared to The Handmaid's Tale's 92, it is a no less worthy bridesmaid that demands repeated viewings to fully appreciate its rich tapestry.
With 78, the critics claim the series has found its feet in S2 and is duly more accessible to viewers – in other words it has been dumbed down to appease those without the patience to appreciate the slow-burning opening season.
Furthermore, Scottish actor Peter Mullan, who plays the founder of the resort's owner, the Delos Corporation, is singled out as a welcome addition.
The payback for the perseverance is immense, and S2 promises more of the same – a high standard that led to the postponement of the original 2017 release date to the horror of executives … everywhere, as it has set a precedent to favour standards over schedules. So if you haven't watched S1, give it a go and find out why it got an emotional reaction rate on Twitter that was 545 percent higher than last year's cancelled Vinyl.
Mumblecore royalty
Then again, that could be the equivalent of your affection for Marvel Comics being 545 percent greater than for DC Comics – so not particularly significant. Dutifully enough, the self-proclaimed 'universe' is back with yet another outing for the Avengers – their third or fourth escapade, we've lost count. Avengers: Infinity War (Not Released Worldwide; April 25) includes Josh Brolin as a seemingly invincible foe … we can see where this is going.
Blockbuster antithesis Lady Bird (94 on Metacritic; April 26), which made the Best Film Oscar shortlist, marks the directorial debut of Greta Gerwig, the title star of the 2012 mumblecore classic Francis Ha, which she co-wrote with the director, her long-time collaborator Noah Baumbach. Its coming-of-age tale has resonated with audiences the world over – not least because the clever script still manages to sound natural (unlike, say, all of Aaron Sorkin's).
Also recommended is Tully (76; May 9), the latest from Jason Reitman (Juno, Up in the Air), which also has an element of mumblecore. Charlize Theron plays a single mother-of-three who is gifted a nanny by her wealthy brother – an unusual premise that already has more promise than most tautly-plotted Hollywood heist thrillers.
Hoodlum humour hoodoo
Following the lamentable cartoon Gnomeo and Juliet featuring Smurf rip-offs, it was inevitable that another silly release with a rubbish pun would duly follow, and that film is Sherlock Gnomes (36; May 3). Holmes is already regretting asking "What's on".
Even worse is Just Getting Started (21; May 3), more evidence that Morgan Freeman is not only looking to torpedo his career, but also his likeability. When will they ever learn that mobsters and comedy only ever worked once – and that was Some Like it Hot a zillion years ago. Whether it's Analyse This or That, Mickey Blue Eyes, Did You Hear About the Morgans? or Married to the Mob, none of them are ever going to be as funny as Goodfellas or The Sopranos.
Elsewhere, The Journey (52; May 3) uses every poetic licencing law in the book to depict a meeting between Ian Paisley and Martin McGuinness during the Northern Ireland peace process negotiations in 2006. The all-too-familiar titles do not bode well for horror film Truth or Dare (NRW; May 3) or comedy Overboard (NRW; May 10) jumping above the parapet. And the early word is positive on U-July 22 (75; May 3), a vivid recreation of the Utøja massacre – which despite being in Norwegian can still probably be appreciated.
With Brazilian series 3% (Netflix; April 27) also returning for a S2 and new Danish Netflix drama The Rain (May 4) making its bow, this month's television is an adversary that even the Avengers can't contain.