News
The puck stops here! Here comes the IIHF World Championships
---
This article is more than 5 years old.
Copenhagen and Herning bracing for fan influx as Denmark hosts tournament for first time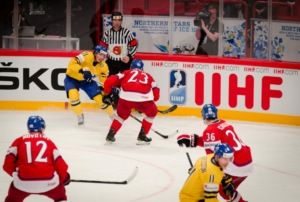 On Friday, arguably the biggest sporting competition ever held in Denmark will commence when the puck drops on the 2018 IIHF World Championships in Copenhagen and Herning.
Ahead of the start, CPH POST has been analysing the betting of the main contenders (see below), along with a few of the outsiders – not least the hosts!
Over 300,000 tickets have already been sold and ice hockey fans from around the world are about to descend upon Denmark, which is hosting the massive annual event for the first time.
Day one sees several mouthwatering match-ups, including the US lacing up against their Canadian rivals at the Royal Arena in Copenhagen, and the Danish hosts facing off against Olympic silver medallists Germany at Jyske Bank Boxen in Herning.
READ MORE: First-ever Danish edition of IIHF World Championship hits attendance goals
Usual suspects favoured
2017 winners Sweden must be considered among the strongest favourites, along with Canada and Russia. The Swedes, who will bring at least 10 NHL'ers to the tournament, will be boosted by a massive fan base coming across the bridge to Denmark.
Canada are always rock solid. Brimming with NHL talent, the Canadians have made the last three finals, losing only one – to the Swedes last year.
The reigning Olympic champions Russia are also a force to be reckoned with. They did make a surprising coaching change recently, but the KHL has taken significant strides in recent years in terms of quality and they have some of the most gifted players on the planet. Can they work as a team?
Just outside the top three are Finland, the US and the Czechs. The Finns won in 2011 and were finalists in 2014 and 2016, while the Czechs won in 2010. And despite being a perennial powerhouse, the US have generally disappointed at the IIHF World Championships, last winning in 1960, but you know they'll bring plenty of NHL players to Denmark.
Danish delight?
And how about those Danes? Can the underdogs mount an upset campaign on home ice? They're missing the vast majority of their NHL players (yes the Stanley Cup scheduling issue persists), but they have managed to get legend Frans Nielsen (Detroit Red Wings) and top net minder Frederik Andersen (Toronto Maple Leafs).
Furthermore, a squad that includes five KHL players can't be considered a slouch by any stretch of the imagination. No doubt, Canada, Finland and the US are big favourites to progress to the knockout stage from Group B, but the Danes are well capable to squeezing into that fourth place slot – a challenge that makes the opener against Germany so important.
Germany will likely also fancy their chances in Group B, while Slovakia might have the best chance of the outsiders to finish fourth in Group A behind stalwarts Sweden, Russia and the Czech Republic.