News
More than a silver lining: Danes return with sustainable underwear
---
This article is more than 5 years old.
Organic Basics kickstarting its latest SilverTech underwear line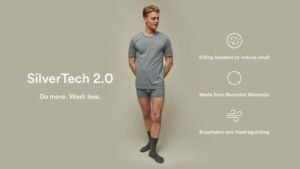 Two years ago, Organic Basics crowdfunded its first line of SilverTech underwear, propelling it into the upper echelons of sustainable and odourless undergarments.
Now the Copenhagen-based company is back Kickstarting its enhanced SilverTech 2.0 line, which offers improved comfort, heat regulation, durability, and breathability to its already popular 100 percent sustainable design.
"SilverTech 2.0 is the follow-up to the original men's SilverTech collection, which was the most crowdfunded fashion campaign in Scandinavia. The mindset of SilverTech remains the same: 'Wear more. Wash less'," Organic Basics wrote.
"SilverTech 2.0 is made with seamlessly-knitted Q-Nova mechanically-recycled nylon, and treated with Polygiene for odour control. SilverTech 2.0 is basically better made, and perfect for an active lifestyle. All our underwear and tees are made with 100 percent recycled nylon, making them more comfortable, more breathable and more durable, while reducing our environmental footprint."
READ MORE: Get dialled in! Danes crowdfunding their way to the zenith of watchmaking
Hot to trot
Despite only going online yesterday, the Kickstarter campaign has already reached almost 250,000 kroner in pledge funds, easily surpassing its set goal of 186,184 kroner (30,000 US dollars) with 30 days remaining on its campaign.
Pledgers can choose from a wide variety of packages to fund – from the 179 kroner for socks or boxers and 364 kroner long or short-sleeve T-shirt to the 3,079-4,835 kroner for premium packages offering a wide range of undergarments and towel combinations.
And being sustainable is critical to Organic Basics. "We  know  that  the  fashion  industry  is  a  dirty  bastard,  but  did  you  know  that  washing  and  drying  accounts  for  two-thirds of  the  environmental impact  of  a  piece  of  clothing?" they ask.
"In  our  opinion,  this  problem  needs  to  be  solved  by  the  fashion  industry  first  (that's  us).  We  believe  in setting  higher  standards  and  leading  the  way  when  it  comes  to  sustainable  fashion."
Read more about the SilverTech 2.0 line and the packages it includes here, or check out the video below.