News
The Rain is coming, but not the kind normally expected in Copenhagen
---
This article is more than 5 years old.
Scandi Noir gets a makeover for the young adults, and an eye-catching ad campaign while they're at it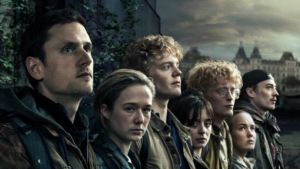 Rain is predicted on May 4. No, this isn't the weather section or the horoscope, but news of the new Netflix show 'The Rain', a fitting title for a show set in a country where precipitation is guaranteed.
Tomorrow's highly-anticipated Danish debut has been using a sophisticated ad campaign to remind people that, yes, 'The Rain' is coming and this time it will do a lot more than ruin your daily commute.
A series of campaigns
Copenhagen locals would have been hard-pressed to miss the campaign over the last month informing them about the young adult tale about a post-apocalyptic Denmark plagued by deadly rain.
Huge screens have been blasting the TV trailer out at locations such as Rådhuspladsen and Nørreport Station, and thousands of flyers with post-apocalyptic messages in Danish have been pasted across town.
The campaign follows the success of those used to promote other Netflix releases. Nørreport Station was transformed into a dystopian subway station to promote 'Altered Carbon', while Rådhuspladsen played the trailer of the Natalie Portman movie 'Annihilation' in a loop.
A bit like 'The Walking Dead'
But is it any good? Well, the New York Times might need more convincing, describing the young adult series as "not gripping – as either an adventure or an intellectual exercise".
But its overall verdict is "entertaining' – a view shared by the Guardian, which warns: "Don't expect the deep introspection of dystopian telly such as 'The Handmaid's Tale'. Do expect near misses and gore like that seen in 'The Walking Dead'."