News
Sexually-transmitted diseases in Denmark at epidemic levels
---
This article is more than 5 years old.
Health authorities worried as numbers explode – especially among young people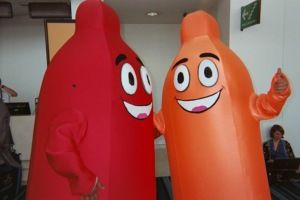 The rates of sexually-transmitted diseases in Denmark are exploding.
The number of gonorrhoea and syphilis cases grew more than sixfold from 2005 to 2015. The 34,132 chlamydia cases reported in 2016 were the most recorded since the Statens Serum Institut began monitoring the disease in 1994, according to Berlingske.
Both the institute and the Danish family planning association Sex og Samfund say the levels of sexually-transmitted diseases in Denmark have reached epidemic proportions.
"We think it's deeply worrying that we are still seeing these numbers grow as they have for the past 10-15 years,"  Sex og Samfund head Bjarne B Christensen told TV2.
Deadly consequences
In 2016, 3,478 people in Denmark were infected with gonorrhoea – an increase of 27 percent in just one year. In 1999, there were 22 known cases of syphilis in Denmark. By 2016, there were 742 cases reported, and Christensen said that those numbers are probably low since many do not realise they are infected.
Most sexually-transmitted diseases respond quickly to treatment, but they can have serious consequences if not dealt with. Sundhedsstyrelsen, the national board of health, estimates that untreated chlamydia leads to approximately 500 women becoming sterile annually.
READ MORE: Logic rejected, they go unprotected and get infected
"Infertility caused by chlamydia is a serious problem," said Christensen. "But undiagnosed and untreated syphilis and gonorrhoea can have deadly consequences."
Wrap that rascal!
Christensen recommended condoms and increased testing as two ways to slow down the rise of sexually-transmitted diseases,
"If something isn't done, these numbers will only continue to grow," he said.
The spread of the diseases is particularly high among 15 to 29-year-olds – especially those living in large urban areas. Frederiksberg Municipality has the most chlamydia cases, with 34 for every 1,000 young people. Copenhagen and Aarhus are close behind.
Home test
Copenhagen Municipality has introduced a home test for chlamydia that seems to be finding favour among young people.
"I think most people know it is hard for a young person to look their doctor in the eye and get tested for sexually-transmitted diseases," Copenhagen's deputy mayor for health and care, Sisse Marie Welling, told Berlingske.
"We now offer a free home test, and young people are using it so often they we may have to expand the program."