News
The gap between rich and poor continues to widen
---
This article is more than 5 years old.
Denmark is becoming less homogeneous and equal when it comes to incomes, report reveals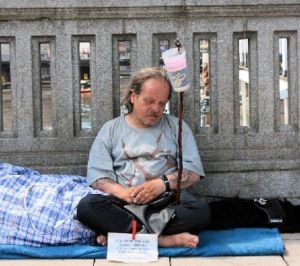 The number of economically poor Danes is rising – as is the number of people who have an ordinary income of over 1 million kroner per year.
Figures from a new analysis carried out by the industrial workers council AE-Rådet and the trade union 3F reveal that the number of poor people has gone up by 28,000 since 2004 and the number of million-kroner earners by 22,000, reports Ekstra Bladet.
There is no official 'poverty threshold' in Denmark and there are a number of different definitions being used, but AE-Rådet defines a poor person as one having an income less than 50 percent of the country's median income for one year.
The tip of the iceberg
According to Jonas Schytz Juul, the council's chief analyst, these figures are only the tip of the iceberg when it comes to the numbers of economically poor people. The changes to the benefits system made by successive governments have not yet become truly reflected in the statistics, as the benefits cap was only introduced at the end of 2016.
"Our clear expectation is that the number of poor people will increase further in future. In these cases it is especially the children who will suffer," said Juul.
READ ALSO: Children marked for life by poverty, study shows
"We risk doubling the number of poor children in Denmark and this has happened since the government implemented reductions in benefits. That will result in thousands being cast into poverty."
Not reforms, just cuts
Senior researcher Anne-Dorthe Hestbæk from the Danish centre for social science research VIVE agrees.
According to her, a contributing factor to the growing number of poor people is the changes capping and reducing benefits for people on integration and social help. These so-called reforms seem to be "making the poor poorer".
There are a lot more families – including families with children – whose income is so squeezed that they fall below the level that is usually used when defining poverty, Hestbæk added.
Attack on two fronts
According to the chair of the union 3F, Per Christensen, this trend must be reversed as soon as possible.
"It is an extremely disquieting development. On the one hand we can see more people in employment during this period but on the other, we are in the process of excluding a whole group from these developments," said Christensen.
"We are now seeing the results of several years worth of deliberate cuts to the social system – both in social security payments and other benefits."
Christensen thinks the problem has to be tackled on two fronts – partly by ensuring that vulnerable people are properly integrated into the employment system but also by providing benefits that people can actually survive on if they are unlucky enough to need help from the social system.