General
Brunch Review: A pinnacle à la pillion nestled in naughty Nørrebro awaits
---
This article is more than 5 years old.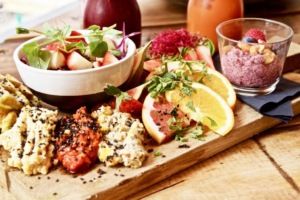 Sidecar was established on a side-street off Rantzausgade in Nørrebro in 2015. The owners took a chance by rejecting a common restaurant model defined by a singular style of cuisine.
Instead they opted for a hybrid concept that allows their premises to seamlessly accommodate different dining experiences.
With this in mind, over the course of a day Sidecar begins as a cosy coffee and brunch spot, later specialising in smørrebrød and salads, before finally finishing as a lively Asian street-food and cocktail joint.
However, the restaurant's regular metamorphosis doesn't just provide for a rich, diverse menu. Rather, the most impressive part of this novel idea is that Sidecar can effortlessly fit the needs of guests at any given moment of the day.
Fresh, modern feel
It's obvious that those charged with Sidecar's design brief had an eye on the current trends emanating from the fashionable Copenhagen district where it is situated.
This is particularly demonstrated by the rejection of the small and often cramped, traditional Danish café aesthetics. Instead, Sidecar is furnished with light wood and bright colour tones that create an exceptionally airy and palatial space – when compared to many of its competitors.
Despite this, when I came to dine at the restaurant on a weekday morning, I was aware of certain features chosen due to their value for locals.
For example, a large communal table close to the entrance emphasises the idea that eating should be a collective experience.
Small personalised touches, such as budding branches and Easter eggs placed in the centre of the room to mark the arrival of spring, further serve to humanise the restaurant's cool, elegant conception.
Surpasses expectations
Amid Sidecar's diverse menu, its brunch options stand out as signature offerings.
In general, this concept has in recent years sadly become a catchall term to describe any breakfast-based meal served between 10:00 and 14:00.
But, in the case of Sidecar, the restaurants chef's have embraced its true meaning – creating a dish that will, without doubt, fully satisfy your hunger until the evening.
The two potential options don't just simply offer quantity though. In my opinion, the thought and technique they display almost put them in the category of fine dining.
The vegan breakfast plate is punctuated by two key flavours − mint and ginger − that effortlessly complement the arrangement of fresh fruit and salad.
Standout features come in the form of beetroot pesto, homemade humus and chickpea waffle – all of which delight with their elegance and simplicity.
Alternatively, the breakfast plate "with all the good stuff", as its title suggests, doesn't hold back on classic options such as eggs, sausages and crispy bacon.
Nevertheless, the precision and care taken to combine all these sumptuous ingredients into one serving make it unrecognisable from the fare dealt out of an average diner or greasy spoon.
Life and dining in sync
Sidecar's original concept was marked with possible pitfalls, as its owners sought to combine a variety of different experiences into a restaurant that still possessed charm and warmth.
However, they have not simply accomplished this feat, they've created a space and menu that truly fits the requirements of any modern Copenhagener.