News
Holding down Denmark's top job in a fast-changing world
---
This article is more than 5 years old.
The CPH POST interviewed Denmark's Prime Minister for the Summer 2018 edition of the Diplomacy magazine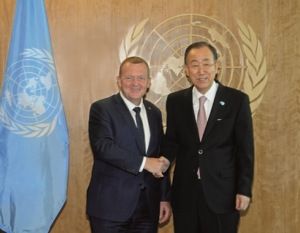 Born in southeast Jutland in Vejle in 1964, Lars Løkke Rasmussen is Denmark's current Prime Minister and has held the post since June 2015.
Rasmussen became active in politics fairly early on. He was national chair of the youth wing of Denmark's liberal party Venstre from 1986-1989, and he was been active in local politics, serving on the council of Græsted-Gilleleje Municipality in a number of different capacities. He has been a member of the Danish Parliament since October 1994.
From 1998-2001 Rasmussen served as mayor of Frederiksborg Amt and from 1998 he was deputy chair of his party.
Rasmussen also has considerable ministerial experience, having served as minister of the interior and health minister under the government led by Anders Fogh Rasmussen from 2005-2007. He was then appointed finance minister in 2007 and became prime minister for the first time in April 2009 when Anders Fogh Rasmussen was appointed NATO's secretary general.
What do you see as the most important foreign policy priorities for Denmark at the present time?
We live in a fast changing world. The unpredictability of international politics has not been this extensive in decades. Last year, my government issued our Foreign and Security Policy Strategy for 2017-18, identifying five overall areas of particular focus in the light of current global developments: Migration, instability and terrorism, security in the neighbourhood region, Brexit and the future of the European Union, globalisation and The Arctic.
These five areas are not the only issues demanding our attention. But within these overall areas, we have launched a number of concrete initiatives to enhance our foreign and security policy focus and efforts. At a more fundamental level, these challenges represent an increasing pressure on the international rules-based cooperation as we know it. For a small country like Denmark with an open economy, this is a very serious challenge. In the years to come, it will continue to be a fundamental priority in Danish foreign policy to support a strong international rules based order of co-operation.
How do you see the role of diplomacy from the perspective of a Danish politician?
Diplomacy is very important, not least for a small country like Denmark. Among allies, Denmark is often said to be "punching above its weight" in international politics. A focused and efficient diplomacy is very much part of this, alongside with other Danish international efforts including military operations and development co-operation.
With the current unpredictability in international politics and pressure on the international rules-based co-operation, the framework for Danish foreign and security policy is challenged. That only increases the importance of Denmark being actively engaged multilaterally and bilaterally in shaping developments and ensuring Danish interests.
What role does diplomacy play in the way Denmark co-operates with foreign countries?
Obviously, Denmark has strong ties with many countries on numerous levels. Relations among European Union Member States are particularly close politically and commercially. So are our relations to our closest allies, not least the US. In the past couple of years we have also engaged in much closer strategic partnerships with several countries outside the circle of traditional allies. Danish embassies and diplomats around the world are key tools, as are other countries' embassies and diplomats posted to Denmark. The Danish government highly appreciates our close relationship with the diplomatic community in Denmark.
How much influence do Danish embassies abroad have and what role do they play?
The Danish embassies abroad perform multiple tasks with the primary aim of promoting and protecting Danish interests. They represent all the Danish government and Danish society in a broader sense.
Fundamentally, they are a tool to maintaining and developing bilateral relations and to represent Danish political interests in other countries and multilateral structures. Embassies in a number of developing countries also administer the Danish development assistance. And the embassies assist Danes abroad as well as Danish companies and exports/investments, thus contributing to the Danish government's growth agenda.
Is there any special event connected to Denmark and diplomacy that particularly sticks in your mind?
Basically, diplomacy is about dialogue and co-operation in order to obtain good relations between countries. Sometimes it can be valuable to do something different and something that can be remembered in order to pave the way for a good dialogue and co-operation.
One funny story comes to mind: When I visited Indonesia last autumn I brought a gift for the President of Indonesia which was not quite traditional. I was aware that President Widodo is a devoted heavy metal and Metallica fan. Last time Metallica played a concert in Indonesia in Jakarta in 2013, President Widodo was in the audience. Because of this, I brought President Widodo a remastered set of Metallica's 'Master of Puppets' album, which was signed by the Danish drummer Lars Ulrich on the front page. The Indonesian press dubbed it 'Metallica diplomacy'.
Members of the Danish Royal Family often spearhead trading initiatives abroad. How important a role do they play and could you give me some examples?
The fact that members of our royal family often spearhead trade missions plays a very important role for Denmark and the Danish business community. Their presence increases the general awareness of Denmark and they are our most valuable 'ambassadors'. They also strongly support the business community and the trade mission and can thus help facilitate closer dialogue with key high level partners. The Royal Family is not engaged in political initiatives, so a representative of the Danish Government always accompanies the Royal Family on foreign visits.
Allow me to give a concrete example: their Royal Highnesses the Crown Prince Couple led a large mission to Tokyo last fall. Their willingness to open doors and participate in sector-focused events helped strengthen the ties between our two countries.
The Royal Family is also very engaged in humanitarian issues. The Crown Princess was actively involved with one of the biggest ever conferences on women's rights, Women Deliver, in Copenhagen in 2016.
There seems to be an increasing amount of disillusion with politicians and the political process all over Europe and in the US. This has led to the rise of extremist politicians and extremist views. What are your thoughts on that?
Since my eldest son was born, infant mortality has decreased by more than 40 percent. Since my daughter was born, the share of people living in extreme poverty has been cut in half. In short there is no doubt, that globalisation provides better living conditions for the vast majority of the global population.
But not for all. Because as globalization is increasing, the gap between the fortunate and less fortunate seems to widen as well because there are almost no jobs for people without good skills. That is the flip-side of globalisation, which also fosters insecurity and sometimes even anger. If you find yourself with fewer opportunities than you expected – of course you get frustrated and react.
The only way forward is for politicians and leaders to stand by their beliefs, not neglecting progress or morality. But at the same time, we need to respond to people's concerns, especially regarding immigration issues. There are no simple solutions to complex problems. But that should never be an excuse for not solving them. We must not leave anyone behind.
One concrete aspect that might be considered by some as a sort of political protest is the Brexit vote. How does Denmark intend to cope with the exit of the UK from the EU as the UK is one of Denmark's major trading partners?
My job is to look after the interests of Danish citizens, businesses and taxpayers. It is no secret that we had hoped the UK would stay in the single market and customs union. However, we have to respect the British wish for a clean break with the EU.
Instead we need to ensure an orderly British withdrawal and define a new relationship on different terms. The EU27 has put forward a fair and balanced proposal. We want to maintain as much market access between the British and the EU internal market as possible. At the same time, we need to ensure a level playing field for our businesses. That's why any future agreement must ensure a balance between rights and obligations. We are hoping for the best, but we also have to prepare for the worst.
How do you view Danish relations with the EU and NATO?
Maintaining and preserving the international rules-based order is fundamental for Denmark and our economy, security and liberal values. The EU and NATO are integral to the framework on which Danish foreign and security policy interests are pursued and preserved internationally.
For a small, open economy like the Danish one it is of course imperative to be part of the EU and the single market. It is the key to ensuring growth and prosperity.
NATO is vital for Danish security and Denmark remains a core ally. Transatlantic unity is a cornerstone in NATO, and we stand ready to shoulder our part of the burden.