News
Archaeologists make sensational ship find in Køge
---
This article is more than 5 years old.
It is not every day that a 500-year-old ship comes to light in Denmark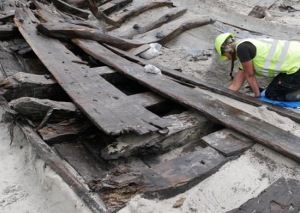 In connection with a building project for PensionDanmark on the coast near Køge, archaeologists from Museum Sydøstdanmark have discovered the wreck of an ancient ship.
The wreck was found on what is now dry land, but old maps show that until 1900 this was underwater.
Extremely well preserved
The newly-discovered ship is estimated to be around 500 years old and it has already yielded a number of surprises. Constructed from oak timbers, in its heyday it was just over 16 metres long and 7 metres wide.
The timbers are very well preserved and there are traces of wood, iron nails, caulking and ropework. It is one of the largest of this type of ship so far found in Denmark.
The dig continues and as the ship's bottom has not yet been excavated, the precise reason it was wrecked is as yet unknown. The archaeological team reckons that the dig will continue for at least another four weeks.
See for yourself
Although the excavation is taking place on an active building site, by courtesy of the builders and PensionDanmark the museum has arranged a presentation of the unique find on Wednesday June 27 at 17:00.
The meeting point is at the end of Søndre Molevej at Køge rowing club's carpark.