InOut
Concert Review: Infidelity and redemption as Jay-Z and Beyoncé take Parken
---
This article is more than 5 years old.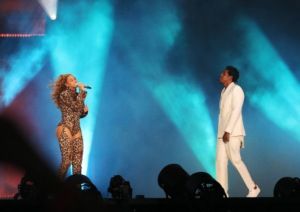 From the get-go we were put on notice this wasn't simply a tour – this was real life; the intro video said so.
After visuals of Jay-Z enjoying a smoke in bed with Beyoncé – the record-breaking duo came out with Bey singing 'Holy Grail' to Jay-Z as he placed a hand on her waist.
Beyoncé surely brought out her alter ego Sasha Fierce because she was really dancing with attitude. The megastar married couple were parallel to each other on the double stages at Telia Parken for a rousing rendition of '03' Bonnie & Clyde'.
Hometown favourite
The crowd were into it but … Beyoncé urged them to sing louder. On his end, Jay naturally changed some lyrics to please the crowd, so it was 'Denmark we back in the building' and 'out in Copenhagen'. His lyrics were even more fire live and there were actual flames for 'YouknowIgotit'.
Jay-Z did a tribute to deceased rapper Pimp C – who collaborated with him on 'Big Pimpin' – rapping the Texas native's verse. Then the whole building was rocking for 'Run This Town'.
Telia Parken got the loudest with Beyoncé exulting the crowd a short time after. The energy of the show was maintained by a Beyoncé heavy midsection that complemented the laid-back Jay-Z very well.
Sticking to the story
The themes of the night were a criminal couple and the story of infidelity.
The cheating story became excessive at times with an obviously moved Beyoncé singing 'What does she do better than me?'
Jay-Z rapped his apology to a good girl that he forced to go bad – 'Song Cry'. The structure of the show really built a narrative.
Bottom line
This was the kind of show with fireworks, flames and star power that made it a must-attend.
Beyoncé sang and danced equally well while still finding time to engage the audience.
Jay-Z was chilled out but more energetic than you'd think – so kudos to the Carters for putting together this experience.