News
New road has eased traffic in Copenhagen district
---
This article is more than 5 years old.
Nordhavnsvej has proven itself a benefit for Østerbro residents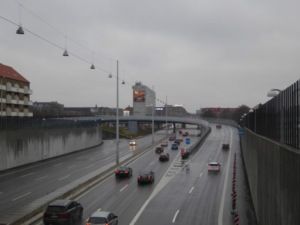 Traffic has long been an issue for residents in the Copenhagen district of Østerbro, particularly due to Helsingør Motorway entering the city there.
But the new Nordhavnsvej exit, which is located just before the motorway hits town and opened in December 2017, has made quite the impact at alleviating the number of cars passing through the central roads of the district.
New traffic figures shows that congestion has decreased considerably on the key Østerbro roads because the traffic is now more evenly dispersed.
"We have generally eased congestion in Østerbro thanks to Nordhavnsvej, and we now see a large portion of the traffic, including the heavy trucks, being led away from Østerbro and directly out onto the motorway through a tunnel that shields the residents from emissions and noise," said Steffen Rasmussen, a municipal spokesperson.
READ MORE: Finally! New Nordhavn road gets the green light
Fewer cars, swifter travel
Close to 2.8 million cars have used the new road since it opened and that has led to drastic reductions in traffic on other main veins, including Strandboulevarden (down 23 percent), Strandvejen (29 percent) and Tuborgvej (21 percent).
There has also been smaller drops on Østerbrogade, Jagtvej, Sejerøgade, Øster Alle and Nørre Alle.
Heavy traffic is also down on Kalkbrænderihavnsgade (down 20 percent), as well as they three roads previously mentioned. Sundkrogsgade, which leads the trucks to the motorway, has seen an 18 percent increase.
Overall, the results have meant travel times from Strandvejen to Jagtvej have dwindled by 42 percent and by 19 percent from Tuborgvej to Strandvejen.