Things to do
On Screens: He no longer wrestles humans, just forces of nature
---
This article is more than 5 years old.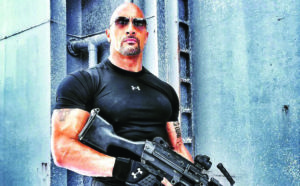 Many fondly remember Brewster's Millions – the Richard Pryor film that used to be on telly every other Saturday night when the broadcasters rarely had the rights to show anything made after 1965. It's exactly the kind of film you should never see as an adult, as it will spoil any happy memories you might have.
Millennials will face the same dilemma when they revisit films starring Dwayne 'the Rock' Johnson. For some reason, this former wrestler is unbelievably popular with youngsters, notching up no fewer than 15 Teen Choice Award and nine Kids' Choice Award nominations.
In Brewster's Millions, Pryor played a minor league baseball player who is challenged in an unexpected will to spend 30 million dollars in 30 days without retaining an asset so he can inherit a much larger sum, and I'm beginning to wonder if somebody set a Hollywood executive a similar challenge with the WWF wrestler.
Granted, not all his films lose money, but they always end up being the worst they possibly can – like every single one is essentially a wrestling movie in which The Rock is pitched against a non-human form because he's already beaten the rest of humankind in the WWF. In Rampage, it is King Kong, in Jumanji, half a jungle, in Hercules, all manner of legendary creature, and in San Andreas, he takes on an earthquake.
Casting Mrs Cruise
His latest film, Skyscraper (Not Released Worldwide; released in Denmark on July 12), looks like it is a cross between The Towering Inferno, Die Hard and The Poseidon Adventure. We've got jeopardy aplenty: vertigo, children in danger and a man with impaired feet taking on maniacs with guns. It's a popcorn cruncher – what more do you want in July.
It's not like Mission Impossible 6 (NRW; Aug 2) is going to be any better. I've always had a suspicion that Cruister contracts stipulate casting control so he can try and line up the next Mrs Cruise, and looking at the cast, my eyes were drawn to Vanessa Kirby (Princess Margaret in The Crown). Sure enough, one google later and I can see it's all over the tabloids. Let the beard tennis commence!
Was Emily Blunt a Mrs Cruise who got away on the set of Edge of Tomorrow? She isn't involved in Sicario: Day of the Solado (62 on Metacritic; July 19) either, as Benicio del Toro and Josh Brolin reunite for more Mexican drug cartel action, this time with a new director onboard.
Sicario 2 isn't the only blockbuster whose reputation would have remained stronger had its story not been continued. In Hollywood, presumably, not making a sequel is a sign of weakness – leaving the door open for an upstart like Netflix to swoop in and take over – which might explain why we can look forward to Ant Man and the Wasp (NRW; July 5) starring Paul Rudd and Evangeline Lilly, who opted to start a family instead of cash in on her fame after playing Kate in Lost.
Theatre of the absurd
From shape-shifting insects fighting baddies to plots even more incredulous. Tag (57; June 28) is about a group of men who have been playing the game (aka tip, tap, tick, tig, tiggy and tuggy) since they were kids – it's a comedy, but seriously, since they were kids.
Hotel Artemis (57; July 26) is a futuristic tale set at a members-only hospital for criminals (starring Jodie Foster in a role finally befitting of her age; Meryl Streep has finally got some competition) – so not a million miles away from most US healthcare recipients today.
The Darkest Minds (NRW; Aug 2) is also a little dystopian, but the cast are too squeaky clean to suggest it will have any depth. In a nutshell: society hates kids, these kids have got skills.
And the cartoon sequel Hotel Transylvania 3 (NRW; July 12) is about a bloodsucking count – actually that sounds quite reasonable compared to the rest of them.
Horror: the last hope
Which all leaves two films: our pick of the month, Hereditary (87; June 28), and what will be many families' pick of the summer, Mamma Mia 2: Here we go again! (NRW; July 19).
Television may continue to dominate in the realm of drama, but most horror fans like their fix in two-hour instalments, and Hereditary (with Toni Collette and Gabriel Byrne) is genuinely chilling. Empire magazine compared it to Rosemary's Baby, The Shining and The Wicker Man – high praise indeed!
Meanwhile, over on some Greek island we've all forgotten the name of, apparently there's still a mystery that needs explaining, which requires us to revisit the youth of Meryl Streep's character from Mamma Mia. But fear not, the story will begin in the present, so the whole cast is doubling up – we're already dreading the encore with them all dancing together to 'Knowing Me, Knowing You'.
Telly as good as Savalas
We know for sure we've got some dependable TV dramas returning this summer, from the excellent Orange is the New Black (S6, Netflix, July 27)) and Better Call Saul (S4, Netflix, Aug 6) to the quickly growing on us Snowfall (S2, HBO Nordic, July 20) and The Sinner (S2, US release, Aug 1).
But it's always nice to have something new to look forward to, and there are three worthy of your attention.
The British miniseries A Very English Scandal (international release June 29), starring Hugh Grant and Ben Whishaw as ill-fated lovers, charts the spectacular fall from grace of political leader Jeremy Thorpe.
Castle Rock (HBO Nordic, July 26) is the keenly anticipated series that brings together some of Stephen King's most beloved characters and settings. It's been a long time coming, so it had better be good!
And the promising miniseries Sharp Objects (HBO Nordic, July 8) brings yet another movie star, Amy Adams, to the small screen to investigate the murder of two young girls.
TV series always sound so much more appetising – Ballers starring The Rock (as a former sportsman not trying to wrestle anyone) a case in point.