News
National Museum under fire over decaying artefacts
---
This article is more than 5 years old.
Sub-standard storage facilities a problem for Denmark's museums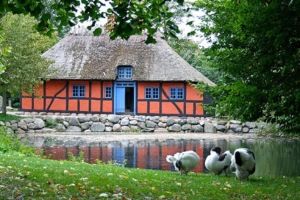 Changing climate patterns accelerating mould and decay have been responsible for the destruction of an increasing number of items put into storage by Danish museums.
Storage facilities are often old building such as redundant schools, cellars, lofts or barns that don't have air conditioning systems installed to control damp and temperature.
READ ALSO: Denmark's past is literally rotting away in museum stores
A note from the Danish national auditor, Rigsrevisionen, reveals that around 1,000 historical artefacts have been thrown away by Denmark's National Museum due to damage from mould, rats or insects, reports DR Nyheder.
The report goes on to criticise the museum for not solving its storage problems, despite them being pointed out as long ago as 2007.
Main problem is Frilandsmuseet
According to the museum, most of the artefacts thrown out were situated in a storage facility in Lyngby connected to the old Denmark open-air museum Frilandsmuseet.
Acting deputy directed Palle Maurice Jepsen agrees that what has happened is regrettable, but points out that none of the lost items were particularly irreplaceable from a historical or cultural point of view.
"It is of course serious when museum exhibits are lost, but in this particular case we're talking about things that are very well represented in collections already," said Jepsen.
A shortage of cash
The problem, of course, is money – or the lack of it. The National Museum estimates that the damage that has occurred in the storage facility at Frilandsmuseet has cost around 30 work years in cleaning and saving items, as well as several million kroner in transport costs.
A new storage facility should be ready by 2021 but it has taken far too long, according to Rigsrevisionen. The auditors have also pointed out that there is a risk of further items being lost or damaged before the facility opens.
When the new facility is up and running, it is expected to save time as well as money. For one thing, items will not be lost to decay but it will also be easier to locate things needed for exhibitions as they will be concentrated in one place, rather than scattered around several different sites.